It's been a very strange few months with all of the team working normally and, with the support of our readers, we were producing digital issues of Bead & Jewellery magazine every month.
But now we're back in print!  Nothing beats the feel of ink on paper.  And we're still printing on the sumptuous paper we know you love whilst many publishers have cut back on the paper quality of their magazines, and reduced pages, to save costs in these difficult times. But we know you're passionate about your hobby and we're just as passionate about our magazine. That's why we are always determined to bring you the best publication we can.
Bead & Jewellery magazine was the UK's first beading magazine and now enjoys an enthusiastic readership in the USA and throughout the world. Editor, and passionate beader, Vicky Roberts ensures each issue is full of wonderful projects and inspiring features.
Now coming up to its fifteenth year, it also includes stylish and quality lampwork, metal clay, and polymer clay designs, and much more!
With eight issues per year, we bring you the best projects and ideas, and you'll find plenty to inspire you whether you're just starting out or you're an experienced beader.
For a flavour of what you'll enjoy, take a look inside a recent issue.  Click here
If you don't subscribe already, there's never been a better time to join us. For a limited time we'll send you a a fabulous FREE gift box when you join.
Subscribe today to the printed version of Bead & Jewellery magazine.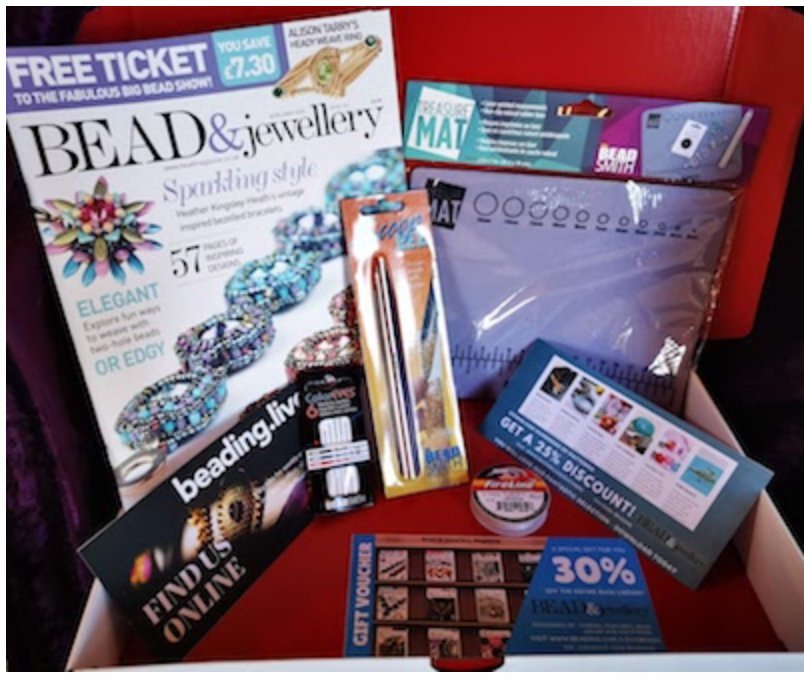 FREE copy of fabulous Bead & Jewellery Magazine
Treasure mat with printed measurement
ScoopEez - scoops your beads with ease
Six Coloreyes beading needles
Fireline braided bead thread
Special discount vouchers

This is a limited time offer
Full details can be found on the web site www.beadmagazine.co.uk