Each issue five of our readers were sent a challenge kit full of fabulous beads from
The Beadsmith and a short brief with all the information they need to know. They were given a specified amount of time in which to design a piece to be featured in the pages of Bead & Jewellery. The Beadsmith then picked one lucky reader to receive an extra pack of beads just for fun. Our first five readers received their packs, and I think you'll agree with me that they went above and beyond with their lovely designs. Be sure to read to the end to see the winner!
CAROL PARIS
Percussion Bracelet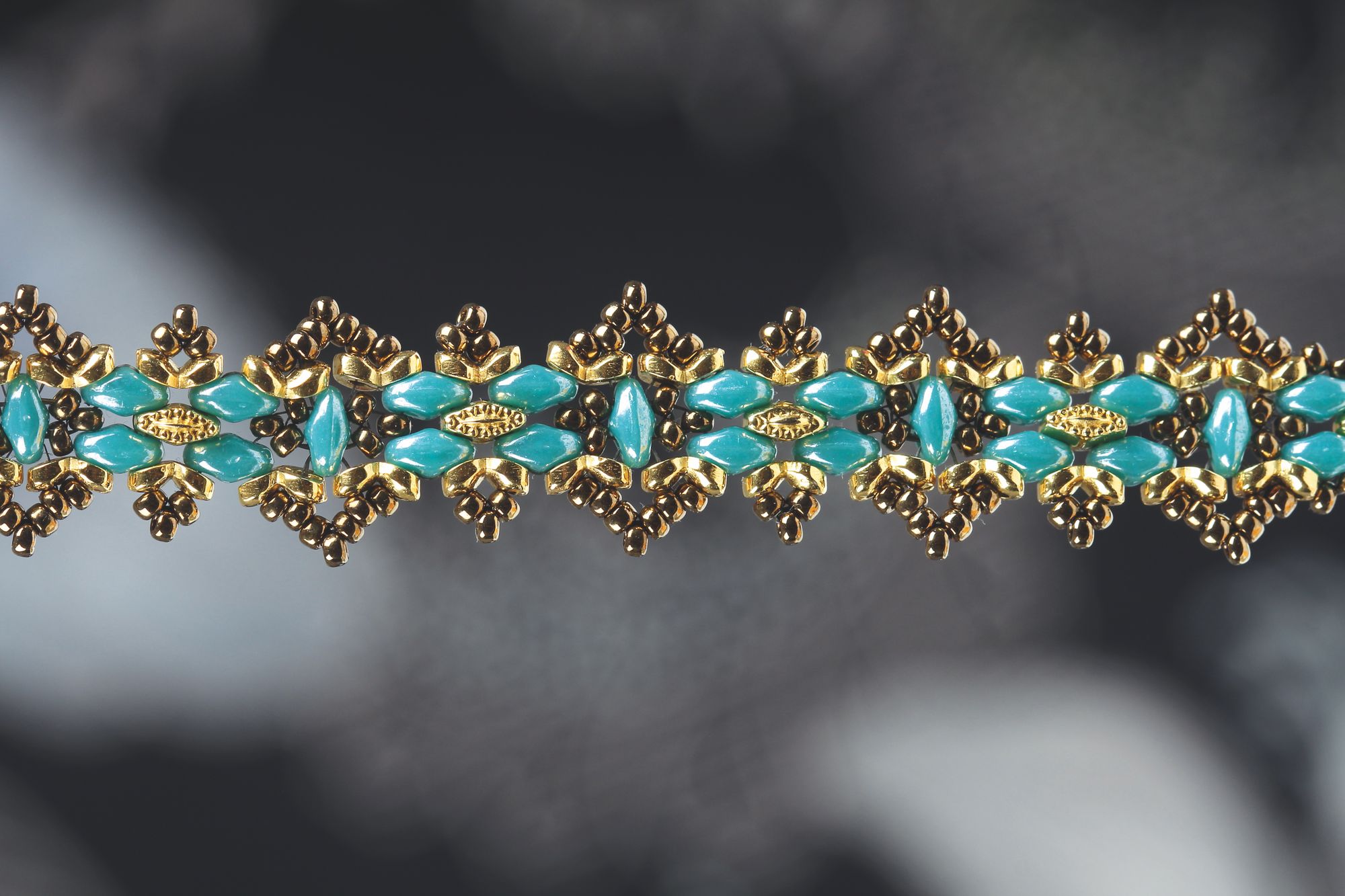 I had enormous fun playing with my challenge pack of Cymbal Elements and
Beadsmith beads. My biggest challenge was deciding which bead doodle to progress into the final design.
My pack contained paisley duos, which were beautiful, but I really loved the way
the Cymbal Elements complimented the superduo beads, so I swapped them for the turquoise superduos from my stash.
The Cymbal Side Beads hug superduos perfectly, but in this design, I used them
upside down as part of the link between two superduos as I liked the contrast in the shapes it created. I used the Cymbal Bead Substitute along the centre in place of a superduo and hoped this balanced the use of gold throughout the bracelet. I particularly loved the Cymbal Bead endings as they slotted into the beadwork so smoothly. The clasp easily becomes a part of the bracelet using this clever finding.
I've called my design "Percussion". The inspiration came from the name "Cymbal Elements" which made me think of percus- sion instruments, so I combined the elements with triangles, my favourite shape to bead just now. The result is a spiky bracelet which reflects the sudden sound waves created by percussion instruments.
I live rurally in the NE of Scotland and am a mother to two growing teenagers. I
spend most of my day with our two dogs and also hanging around with our horses if I am not beading. I am inspired by everything around me: often the wealth of nature in the beautiful area in which I live, sometimes fabrics and occasionally words and language. I have been beading for seven years and sell my tutorials through my Etsy shop I regularly teach in several local galleries. I also sell my finished work in these venues and at annual events in the amazing castles in Aberdeenshire. I enjoy hosting an exhibition each year in my studio, in my garden, as part of a local Art Trail. Recently I have also been collaborating with two very different Scottish Artists to create a series of exclusive pieces of jewellery, in two
completely different styles, which has been enormous fun.

KAREN CASS
Fleur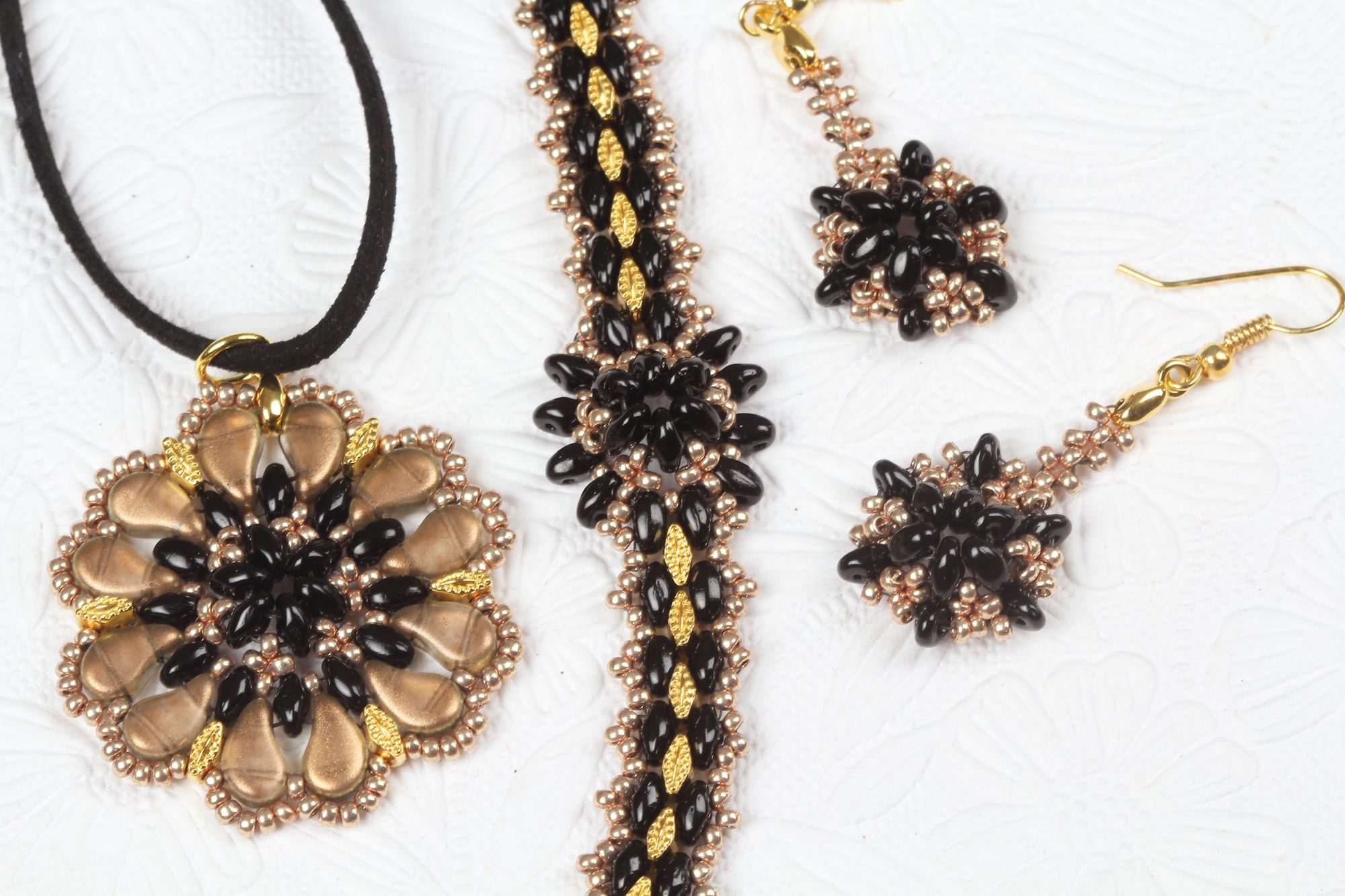 I have entitled my design 'Fleur'. This was my late mother's name and is French
for 'flower' which is how I see the design, especially the central component, which is the component common to all three pieces in the set. The design was inspired by the beads themselves and really just happened as it grew. For this project, I used Superduos, Paisleyduos, Cymbal substitutes and 2 different types of Cymbal super duo endings as well as size 11 seed beads.
I have been beading for three years and first started when I was on holiday. I saw
a bracelet in a shop and went in to ask to buy it. The owner told me I couldn't buy it, but if I came back the following day he would teach me what to do. This appealed to the crafter in me. I have always crafted in one way or another but had never beaded. I went back the following day, and his Russian sales assistant showed me what to do. I speak no Russian, and she spoke no English, but between us, she showed me how to do it. I came home, started beading and haven't stopped since.

ERIKA FIDDLER
Elizabeth Bracelet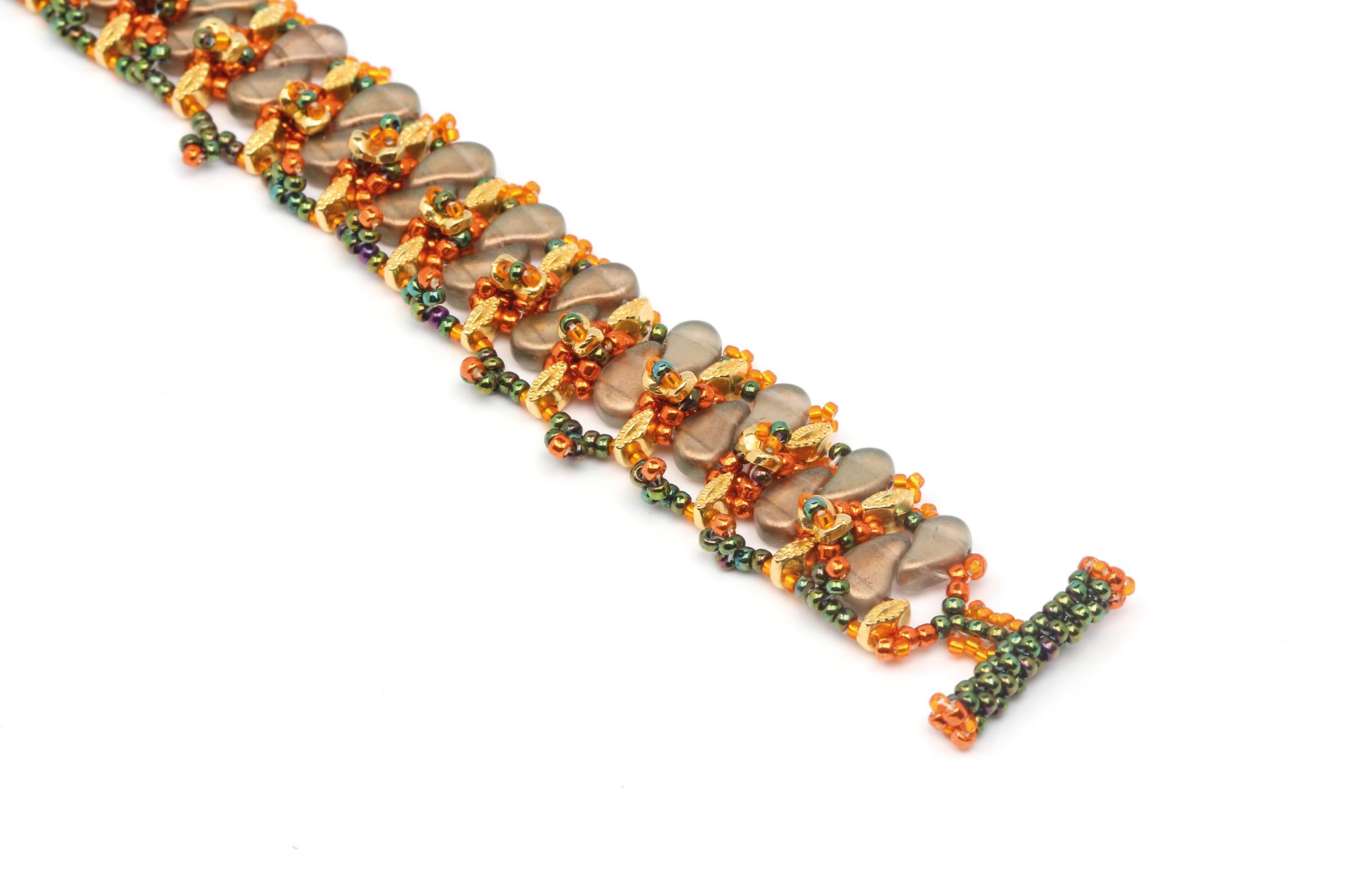 Not having used Paisley Duos before I rather liked the tactile feel of them when
they interlock and they made a lovely setting for the gold cymbal elements which provided stability and continuity to build upon within the design. The gold & coffee colours lent themselves nicely to working with the READER CHALLANGE emerald green and metallic orange that are popular at the present time, incorporating the beautiful Hubble stitch edging to give it a pretty finish.
I am a retired registered nurse after 34 years. I have been beading for seven years,
and I am a member of the Beadworkers Guild of Great Britain, which is a great support and source for many friends.
I do not teach commercially, but I enjoy teaching a friend and love seeing their
delight at a finished piece. This challenge has encouraged me to try different shaped beads and findings and to design more myself.

REBECCA WEBSTER
Seraphim Necklace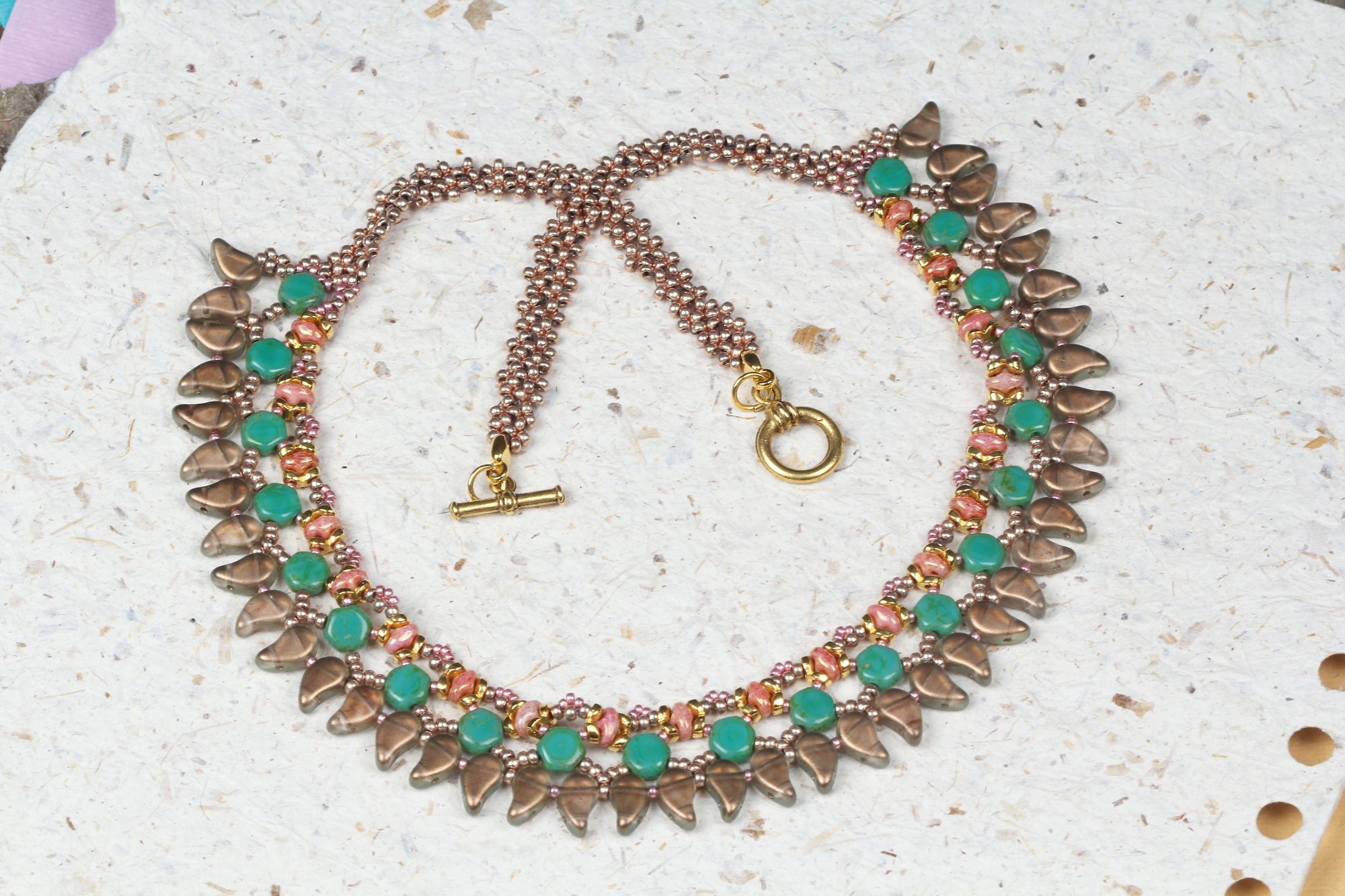 I am inspired by the texture and colour in nature. I design jewellery that I like to
wear and recently have been experimenting with a combination of textiles and beads to create embroidered pieces. In this necklace, the Paisley Duo beads reminded me of angel wings, and they form the first row of my design. Using two hole beads were a new experience for me as I'm mainly used to working with seed beads and crystals, and I enjoyed the challenge.
I discovered beading in 2004, and am now a full-time designer of beading kits and patterns which I sell at local bead fairs and on my Etsy shop BeadAndNeedleDesigns. Previously I ran my own online and retail shop selling beads and jewellery making supplies. I have taught in the past and hope to do so in the future.
WINNER.     FIONA SCOTT
Golden Carcanet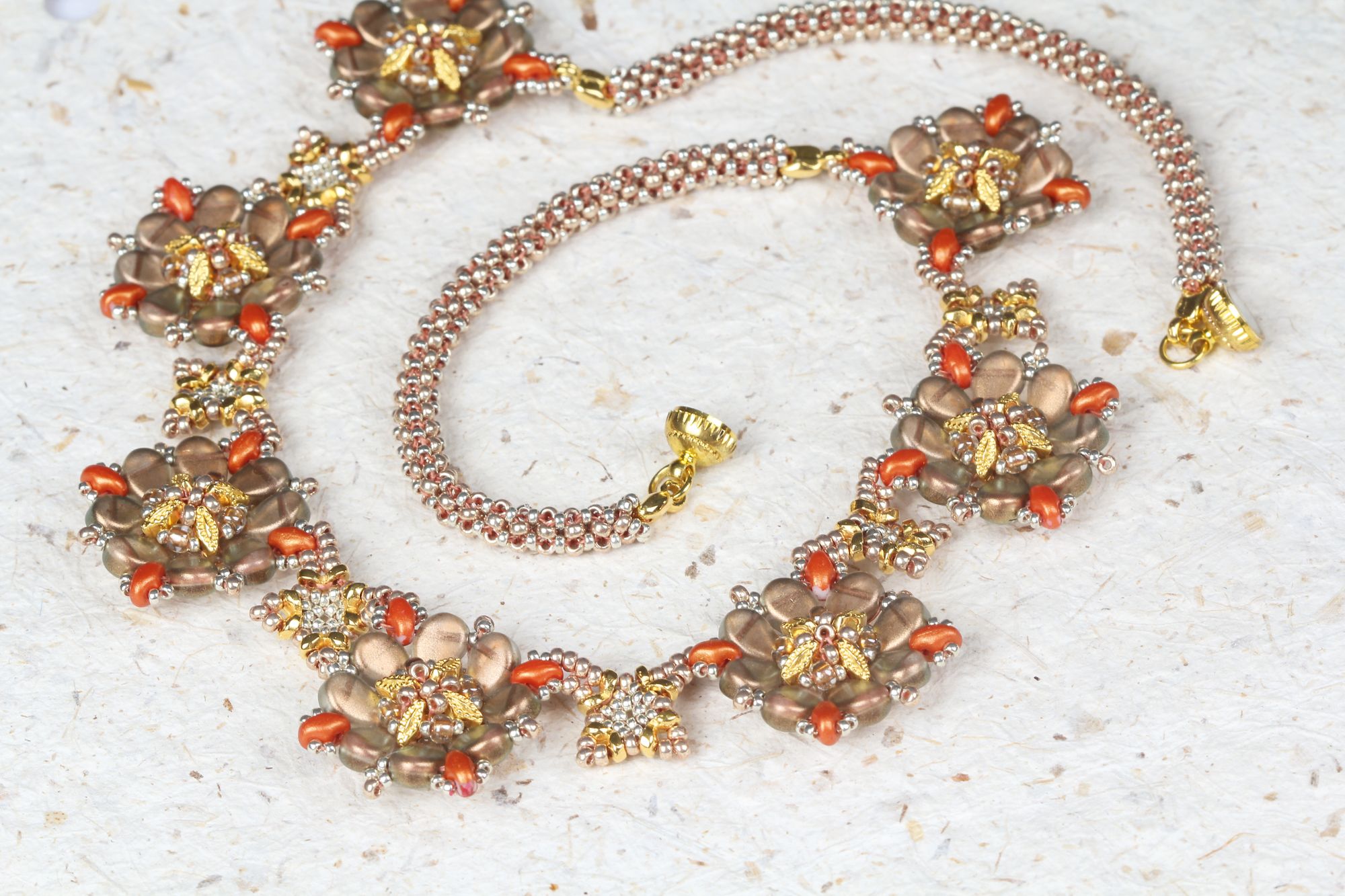 An opulent looking Tudor style necklace made up of two repeated elements in rich
orange and gold tones and a gold and silver CRAW necklace.
The centre of the larger element is given an intricate feel due to the patterned finish of the duo substitute and the side components provide a band of gold at the base of the herringbone and picots in the smaller element.
The Vourkoti superduo end provides both glamorous ends to the necklace sections of CRAW and functional rings for connection to elements and clasps.
The design was inspired through the colourway and how it lent itself to the Tudor
type designs that are very popular at the moment. My beadwork normally has an
attachment to nature and although square, the larger elements remind me of the Tudor Rose.
I have been beading since around 2011 when I first ventured into Patty McCourt's
Bead by Bead shop, and she suggested I attend one of her workshops. Since then I
have been hooked, and spend a lot of money mainly on beadsI enjoy the challenge of competitions and new bead shapes, thinking about how the brief can be met, or how the new beads will interact with others and what shapes they can achieve. For the last couple of years, I have started getting to grips with pattern writing for some of my designs which I sell at shows and on Etsy. I have just recently started teaching at groups. I do sell some of my pieces, and I am currently working on a
commissioned set of necklace, bracelet and earrings. A lot of my pieces are flower or leaf themed. I also dabble in polymer clay, Kumihimo and micro-macrame. I love it when a piece incorporates a combination of these different formats.

Beadsmith says: We chose this as our winner for the unexpected ways in which the CymbalTM elements were used throughout this skillfully crafted design. "Golden Carcanet" features the CymbalTM metal fashion elements designed for use with Superduo beads. The VARIDI bead substitutes surprised us with their dimensional use in the large components, KAPARIA side elements are elegantly integrated into the smaller components, and VOURKOTI endings on the CRAW rope acted as links to the focal section as well as to the clasp.

● Issue 97 of Bead & Jewellery magazine offers you a chance to make Fiona's necklace for yourself.