Each issue five of our readers were sent a challenge kit full of beads and a short brief with all the information they need to know. They were given a specified amount of time in which to design a piece, which is then featured in the pages of Bead & Jewellery magazine.
Once all the entries were in, The Beadsmith picked one lucky reader to receive an extra pack of beads just for fun. Five readers received their packs, and I think you'll agree with me that their designs did the beads proud.
CAROLINE FRENCH (WINNER) Carman Necklace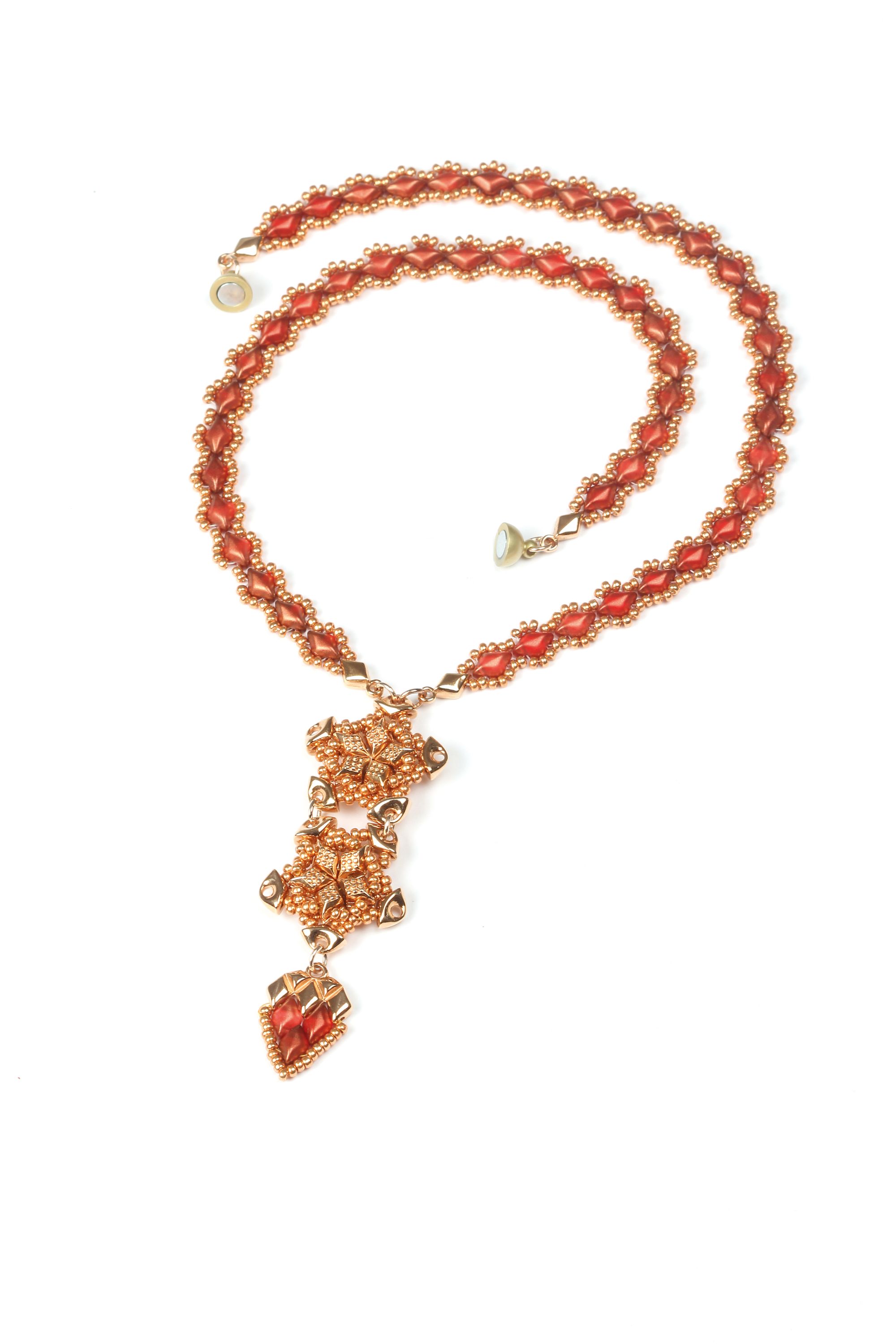 When I started playing with the beads, the bottom element reminded me of a pineapple and the elaborate headdress of Carmen Miranda. The colours of the Gem Duo beads I thought were quite 'carnival'. They blended beautifully with the rose gold Cymbal elements (Tripiti side, Adamas substitute, and both Sykia and Vani III endings) and so 'Carmen' was born.
I have been beading for around 12 years now and am completely self- taught. I especially love weaving beads on a loom and have written a book called 'Modern Bead Loom Weaving'. I love playing with all types of beads and sell my products in a small way in my shop the Crafty Chimp on Etsy.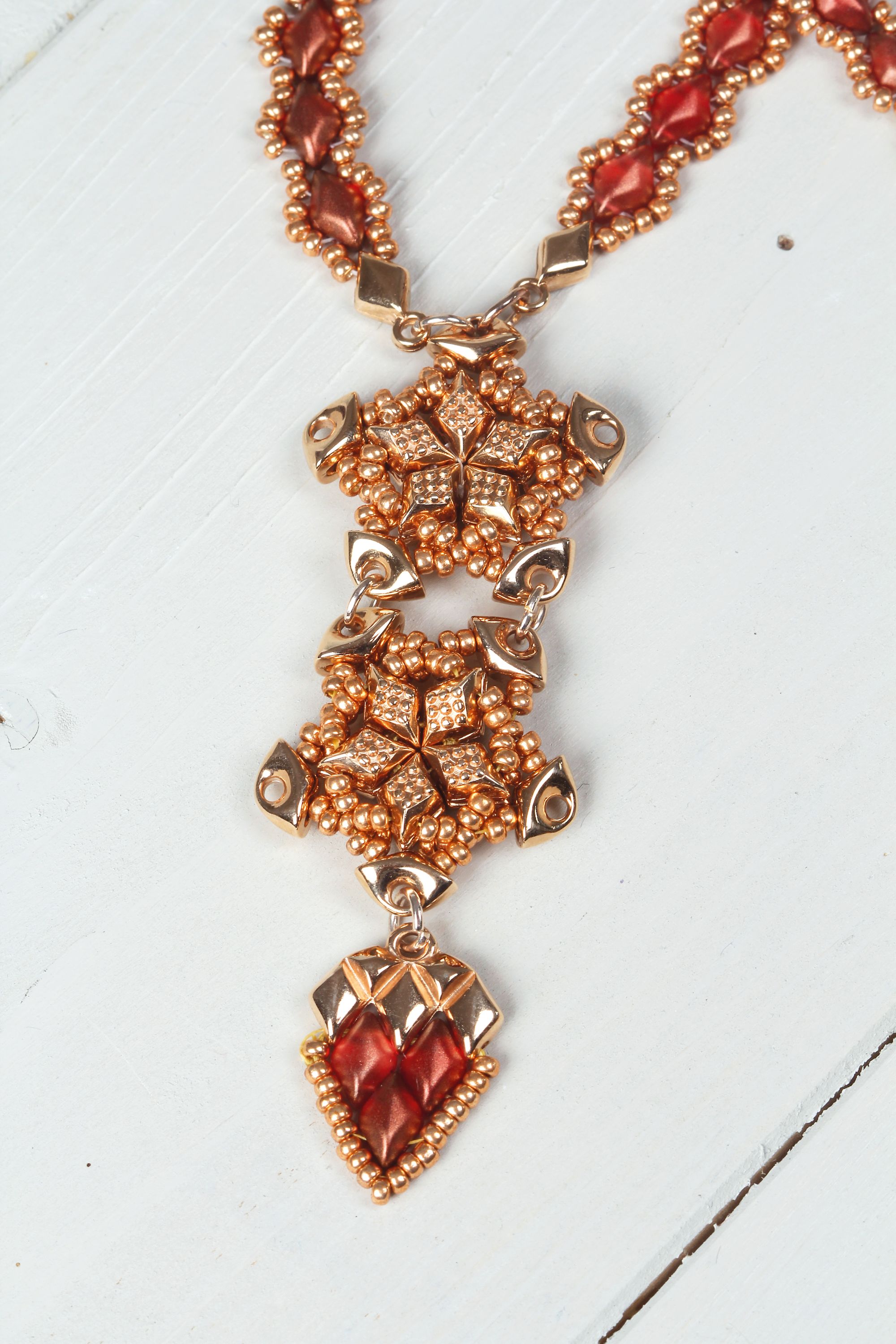 Beadsmith Says: The novel shape of the pendant and outstanding use of GemDuos and Cymbal elements made this one our top choice. Graceful, unique, and superbly crafted.
Amanda Connell, Eleanore Collar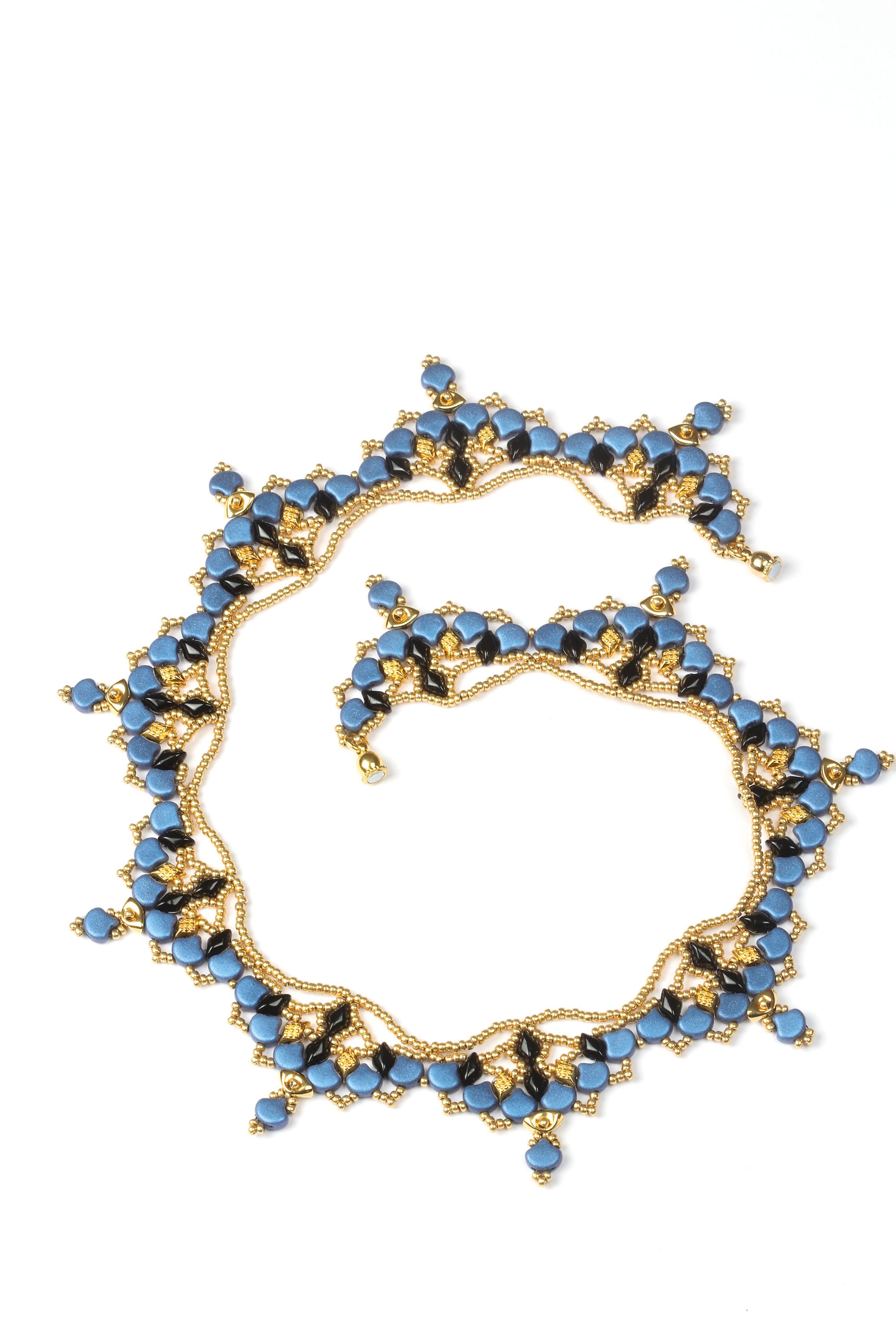 Whilst playing with the beads and experimenting with how straight-sided and curvy beads could be combined, the shapes of the beads and Cymbal ele- ments brought fans to mind. The colours and shapes remind me of some jewellery my grandfather brought back from Egypt for my grandmother (Eleanor) after WWI. I feel the necklace evokes the Art Deco side of the 1920s and 30s with all its Egyptian influences.
I am a self-taught beader (with a lit- tle help from my friends) who has been beading for about seven years. About two years ago, I started writing designs and opened my Etsy shop (BeadiACDesigns) and recently, I had my first design pub- lished in Bead & Jewellery. This year I am opening my studio through Hampshire Open Studios for the first time. I belong to several bead groups both in the real world and on-line and thoroughly enjoy the friendships I have made in the beading community.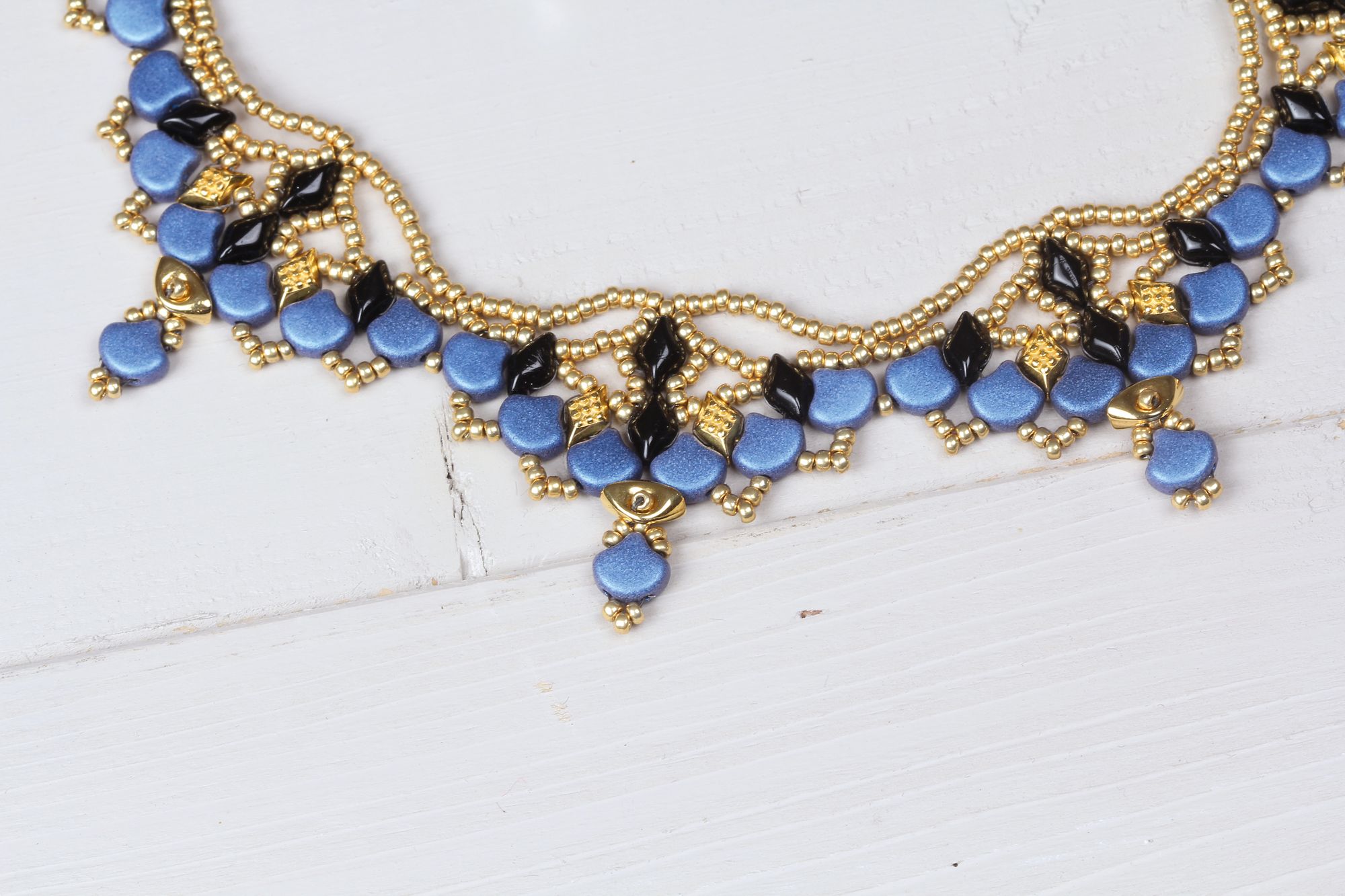 KAREN JONES
From Little Acorns bracelet suite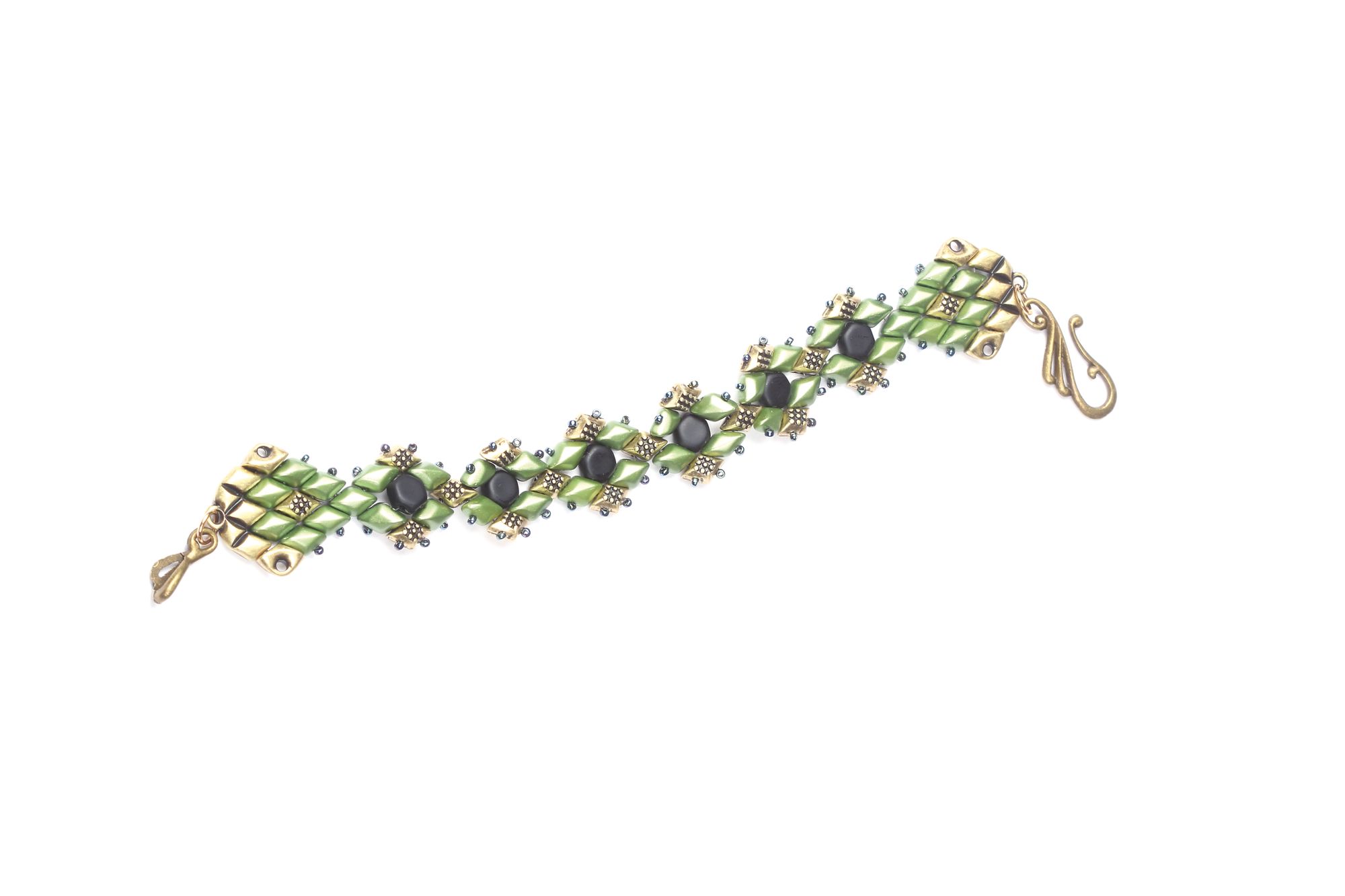 The Cymbal elements really inspired me, and I loved how by bringing the Gemduos to a point it looked like an acorn. The Kalamos III endings, Tripiti side elements and Adamas substitute elements sit so perfectly that it felt seamless and intended. This was the first thing I did with the beads, and I kept coming back to it, so I decided it was meant to be. By adding the Honey- comb beads for a bit of variation, I felt it highlighted the wonderful shapes of the Gemduos that I mirrored in the overall shape of the bracelet.
I am a self-taught beader originally from the West Coast of Scotland and now living in the beautiful North East Coast of England. I started beading around 8 years ago, and it has developed from a hobby to a part-time business (Tartan Ruby Jewellery) in the last few years. I now teach locally and sell my work in Galleries as well as at Art Festivals and Fairs in the local area.
I am inspired by all things around me from nature to architecture to the beads themselves, and I love to work in vibrant yet natural colours. I still love to learn from others and try to get to as many workshops with other designers as I can – it's also a perfect way to spend time with beady friends and make new ones too!
JAN RIGBY Jellystar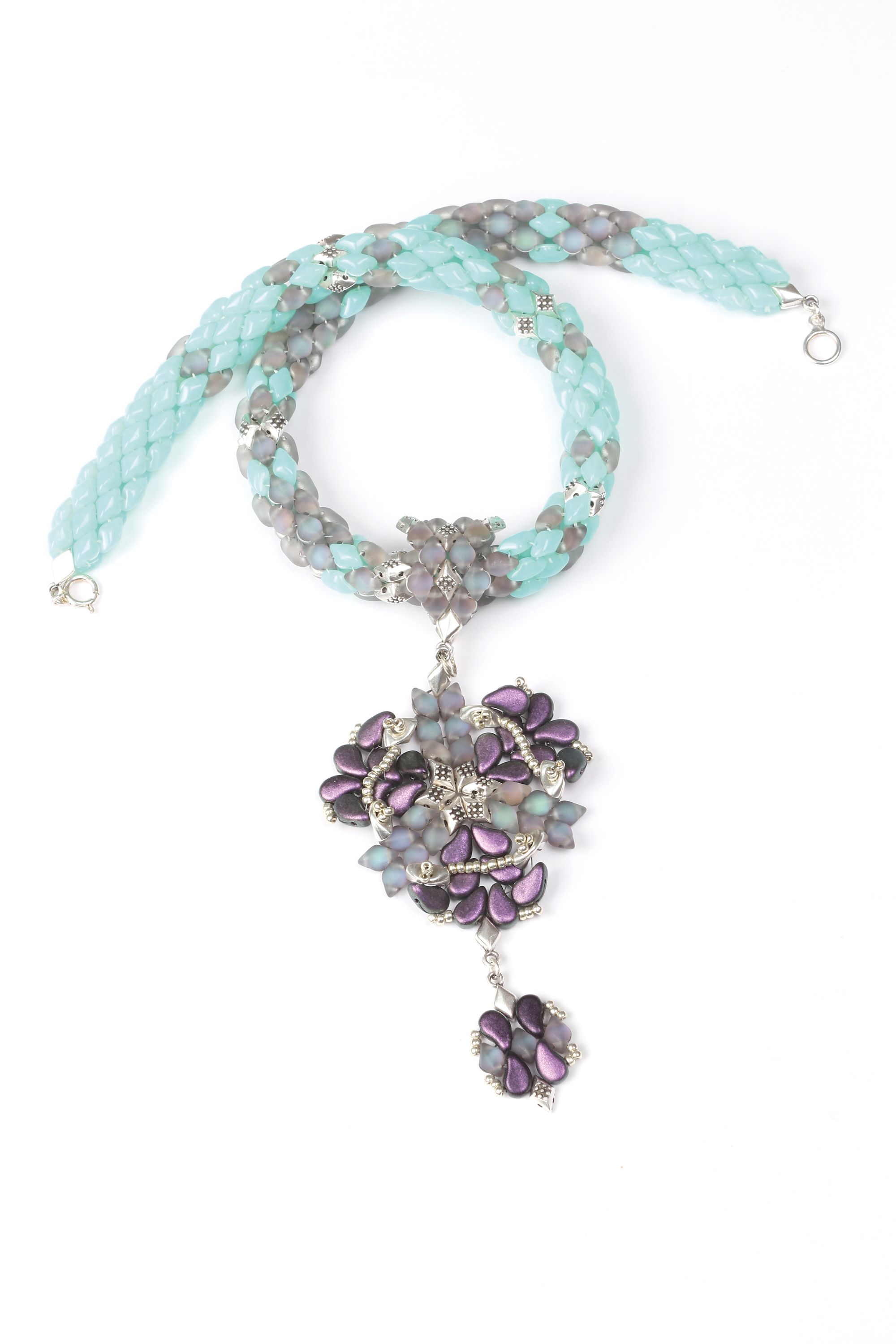 My piece was mainly inspired by the colour of the backlit gemduos, which re- minds me of the moon jellyfish I am cur- rently seeing lots of while swimming in the Liverpool docks. However, the shape of the piece became more star-like as I worked with the duos.
I have been beading in one form or another for most of my life, but became hooked on off-loom bead weaving after visiting a bead shop in Liverpool to pick up some crystals for a necklace pattern
I had found online nearly 10 years ago. As a keen Scuba diver and open water swimmer, I tend to be inspired by aquatic shapes, sounds and marine life in gen- eral. I don't sell my work, but I will do the odd commission for friends and family, and the same goes for teaching. Other beads and jewellery things that I enjoy turning my hand to are bead embroidery and wirework, with the odd bit of metal clay thrown in.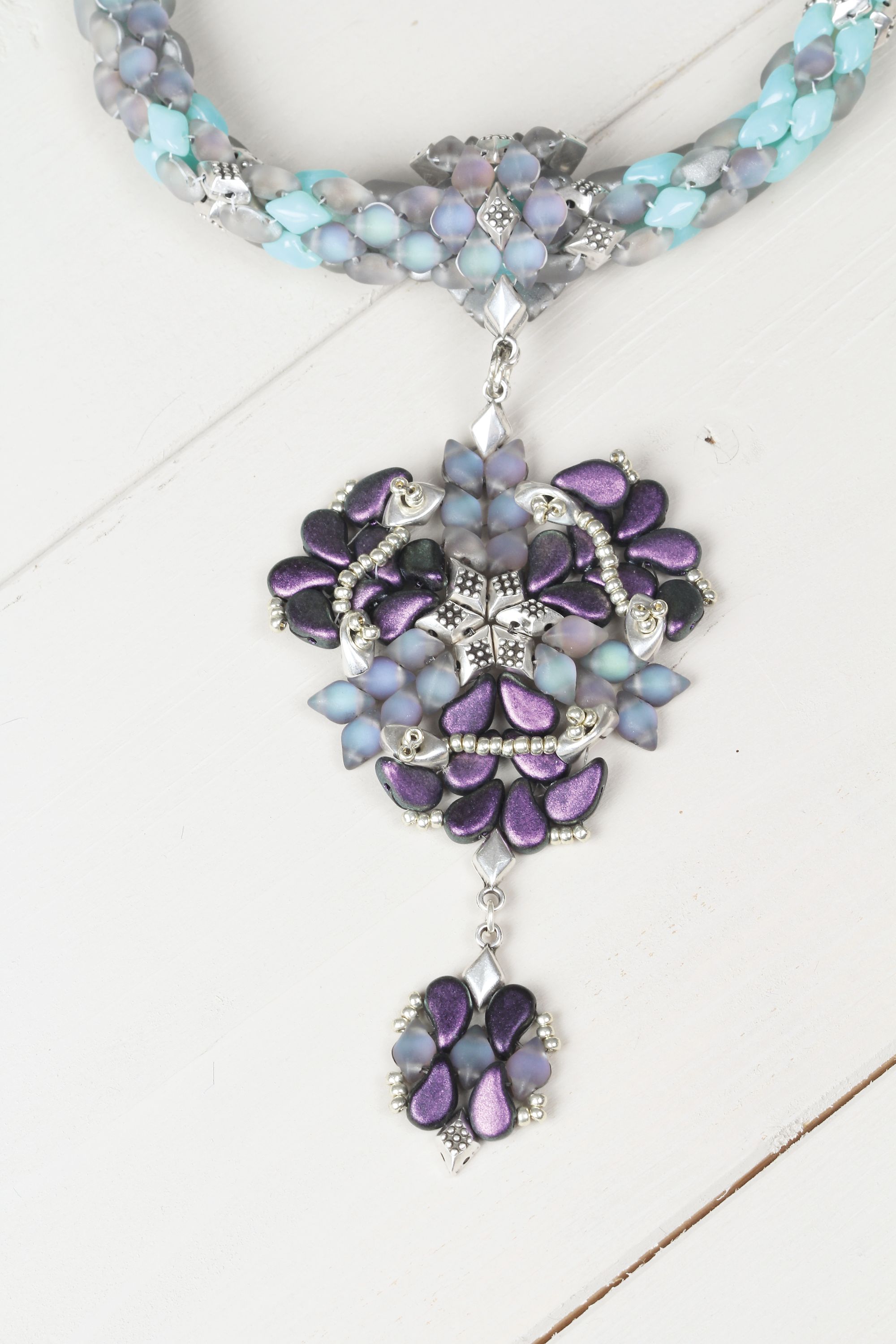 VIVIEN HUSSEY Starflower Fall. RUNNER UP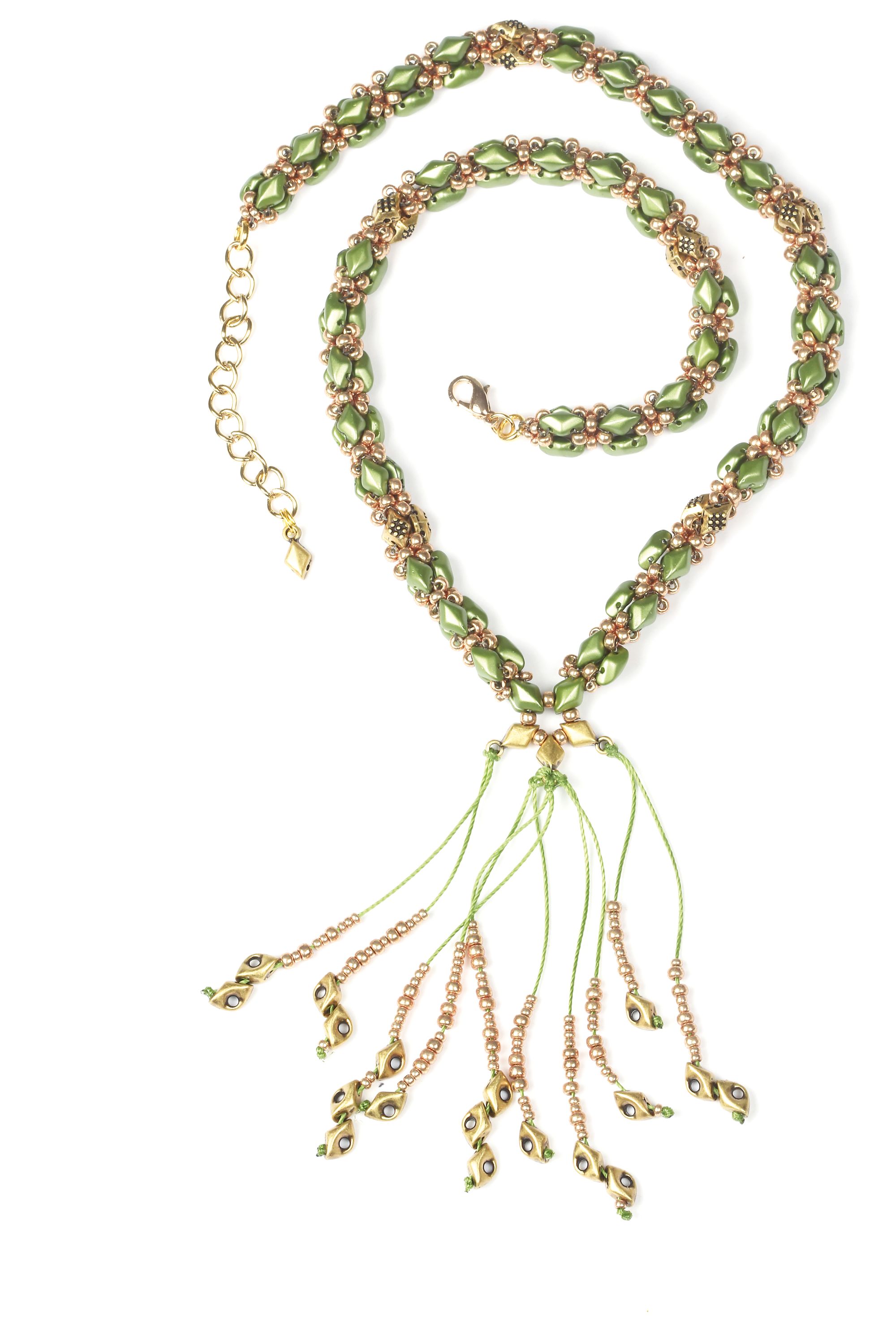 My piece is a Triangular Right Angle Weave rope with a Starflower connec- tor and a beaded waterfall tassel using Olivine Gemduo beads, Sykia Gemduo Endings, Adams Gemduo Bead Substi- tute, Tripiti Gemduo Side Bead and Size 11/0 Miyuki Duracoat Galvanised Cham- pagne all from the kit supplied and 8/0 Duracoat The Galvanised Champagne plus chain and lobster clasp came from stash.
The inspiration for this design came from having all the contents of the kit on my bead mat and the wonderfully tactile nature of the Tripiti side elements to- gether with the current trend for tassels and fringes. This led to the starflower and tassel, and the rope grew out of that. I like the way the Triangular Right Angle Weave sits, and it gives a lighter rope than RAW.
I have been beading for nearly five years after attending a workshop and discovering the huge creative potential of beads. I am still fascinated by the way you can turn a pile of beads into so many beautiful designs and enjoy being able
to wear original pieces of my jewellery. I still love learning from bead artists and following their intricate and complex pieces just for myself. I love wearing simple clean designs and love the jewel- lery from the early 1900s - the era of
the Charleston and Art Deco. I do some teaching and especially enjoy introduc- ing new beaders to the basics. I work at Spoilt Rotten Beads, and I also organise small beading events, which take place mostly in my home where we get togeth- er to bead, inspire and share ideas.
Beadsmith says: This was selected as a VERY close "runner up" to our eventual first choice because its design surprised us. A stellar and inventive showcase of the RAW variation with GemDuos, and use of Cymbal elements in the fringe.