Bead and Jewellery teamed up with The Beadsmith for a reader challenge that focused on the fabulous Cymbal range. Five readers of Bead & Jewellery magazine were sent a challenge kit full of beads and a short brief with all the information they need to know. They were given a specified amount of time in which to design a piece, which was then featured in the pages of Bead & Jewellery. Once all the entries were in, The Beadsmith picked one lucky reader to receive an extra pack of beads just for fun. Four readers received their packs, and I think you'll agree with me that their designs did the beads proud.
AMANDA WESSON (WINNER)    Lantern Pendant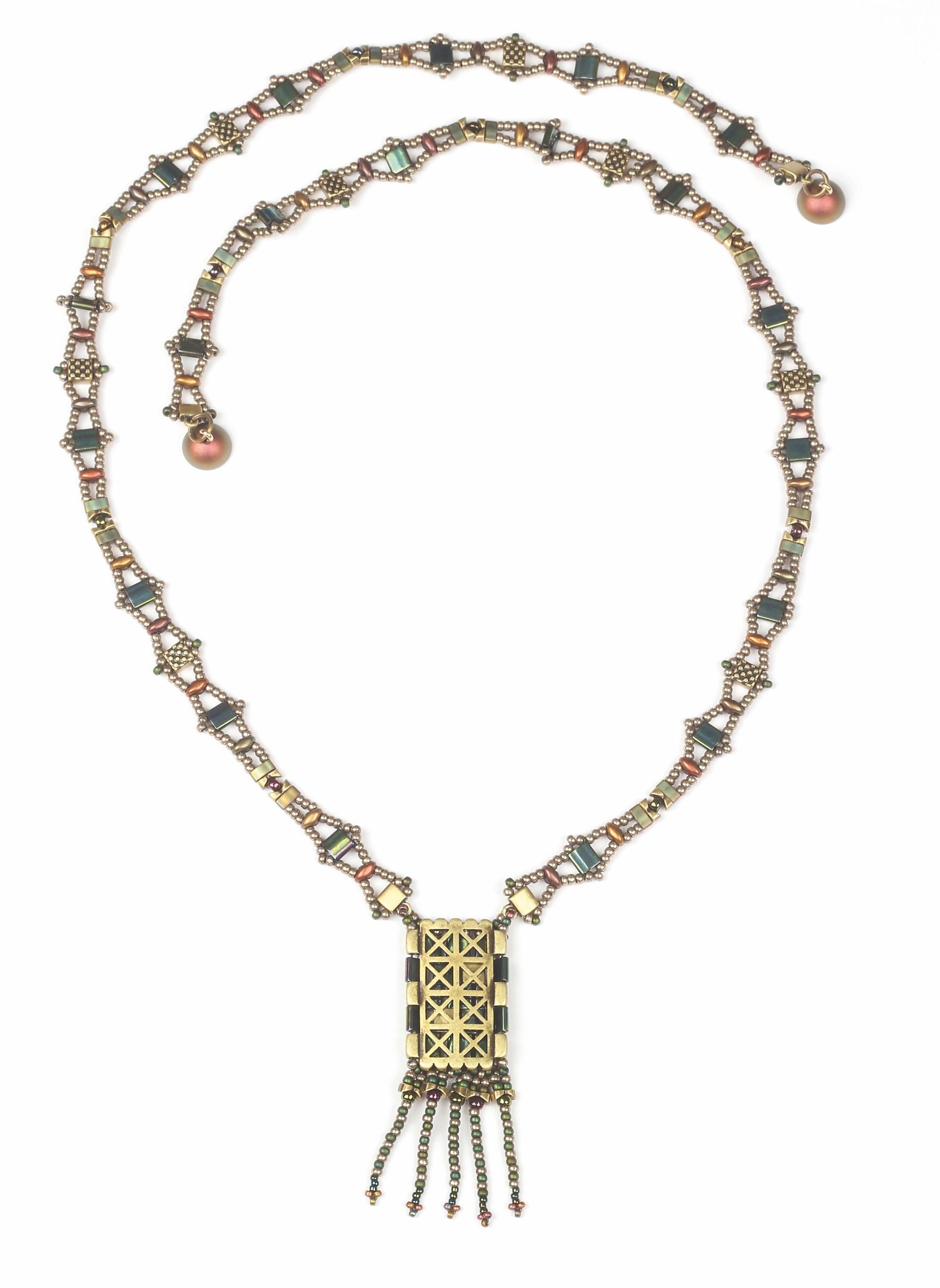 I have made a reversible pendant using a cymbal antique plate Faragas connector, Tila beads and cymbal Tila substitute beads. The tassels were made using Tourkou cymbal bead edging pieces and size 11 and 15 seed beads. I then made a chain using Tila beads, size 11 light bronze seed beads, superduo beads, Tila bead substitute, half Tila beads and Tourkou cymbal bead edging pieces with size 8 seed beads. I used a magnetic clasp and attached it to the chain with a Piperi cymbal ending. I also attached the chain to the pendant with a Piperi cymbal ending.
I was inspired by the cymbal antique brass connector, which I wanted to use but I wanted to make a necklace, not a bracelet, so the idea for a reversible pendant was born.
I have been beading for about 12 years and was originally taught and inspired by Juliet Browse from Spoilt Rotten Beads. In the last couple of years, I have been lucky enough to work for her both in the shop and making and designing jewel- lery. I love going to classes and getting together with other beaders.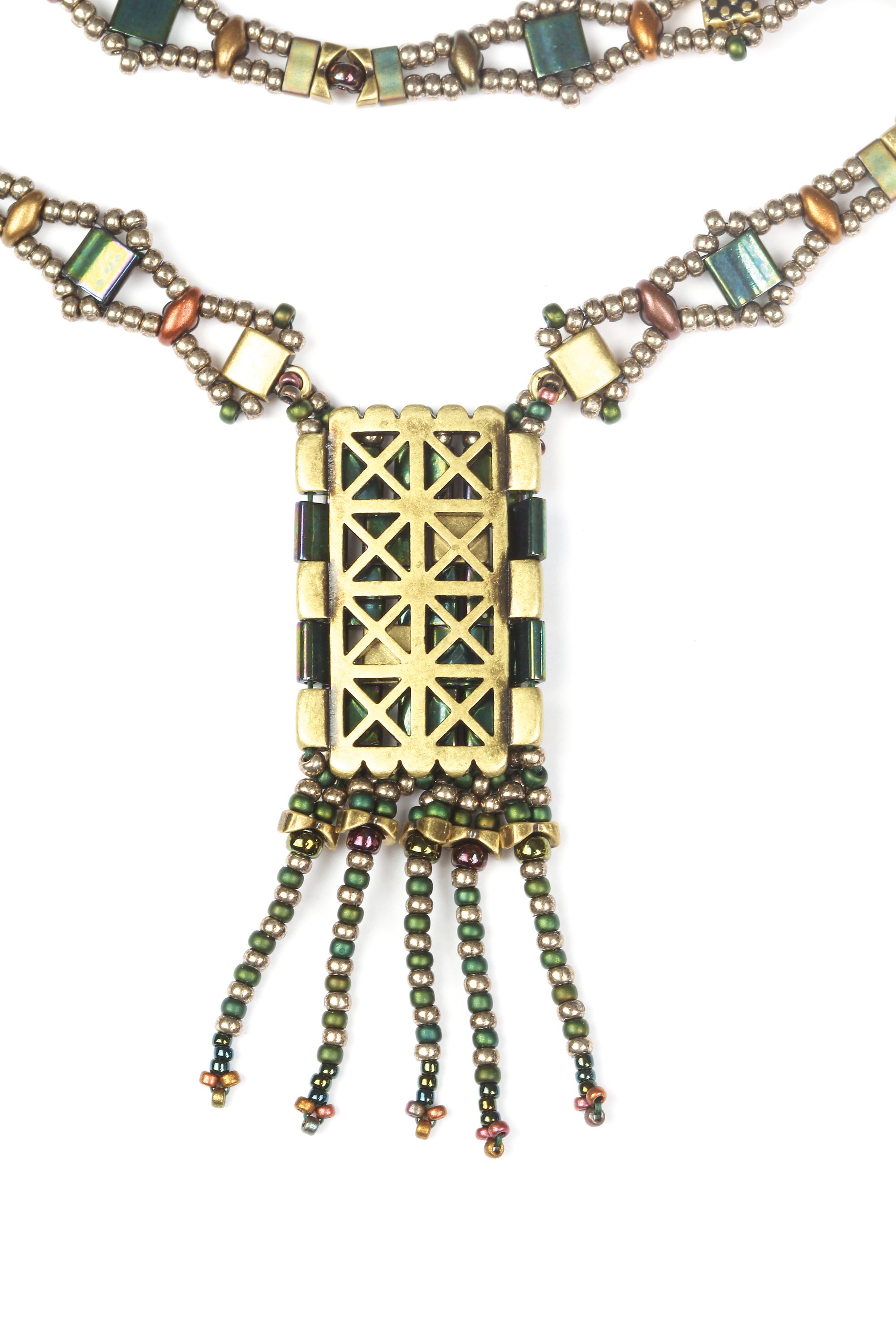 BEADSMITH said:  Our Challenge winner is the Lantern Pendant by Amanda Wesson. The unexpected use of the Cymbal Faragas Connector in a necklace, not as a bracelet, and its tribal style made it a standout. It's reversibility and the thoughtful placement of other Cymbal elements also helped it to garner the top score. Well done!
SARAH TUCKER.    A Path Through the Woods
The colours of the Tilas made me think of magical woodlands, and the Tila substitutes were the perfect stepping stones for a pathway. I added leafy fringe and tiny half Tila acorns completed the design, which uses Parassporos, Piperi, full and half Tilas and Miyuki 11s and 15s.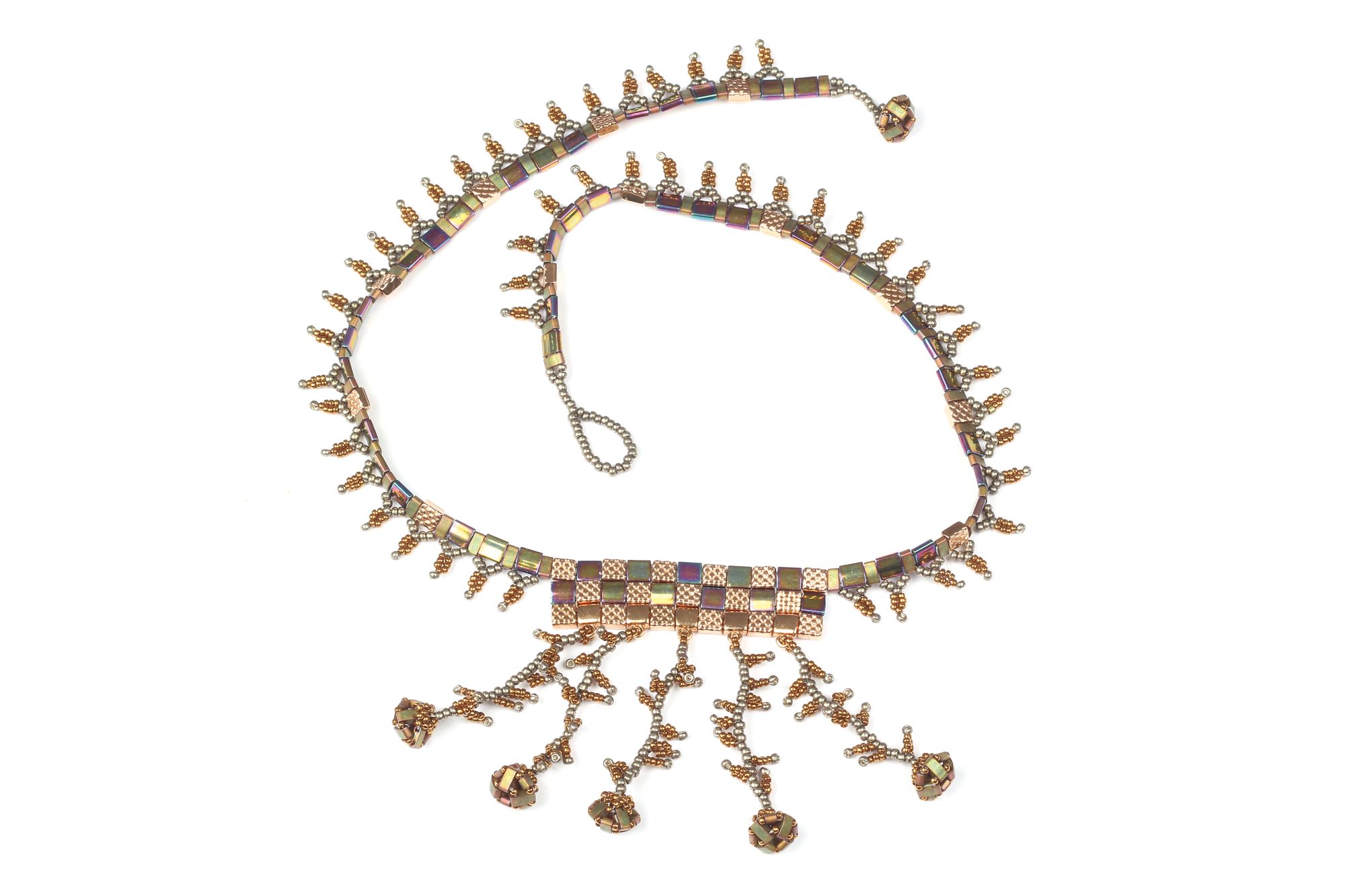 I've been beading for twenty years this year, my favourite inspirations are nature, architecture and colour. I'm just getting back into designing and writing tutorials after a break and enjoying seeing where my inspiration takes me.
BEADSMITH said: A close second was A Path Through the Woods necklace by Sarah Tucker. Its whimsical yet chic design shows innovation in use of Cymbals and Tilas. We really like its clear references to inspiration from tree branches and acorns!
MELANIE COULTHARD.    Annelise, Choker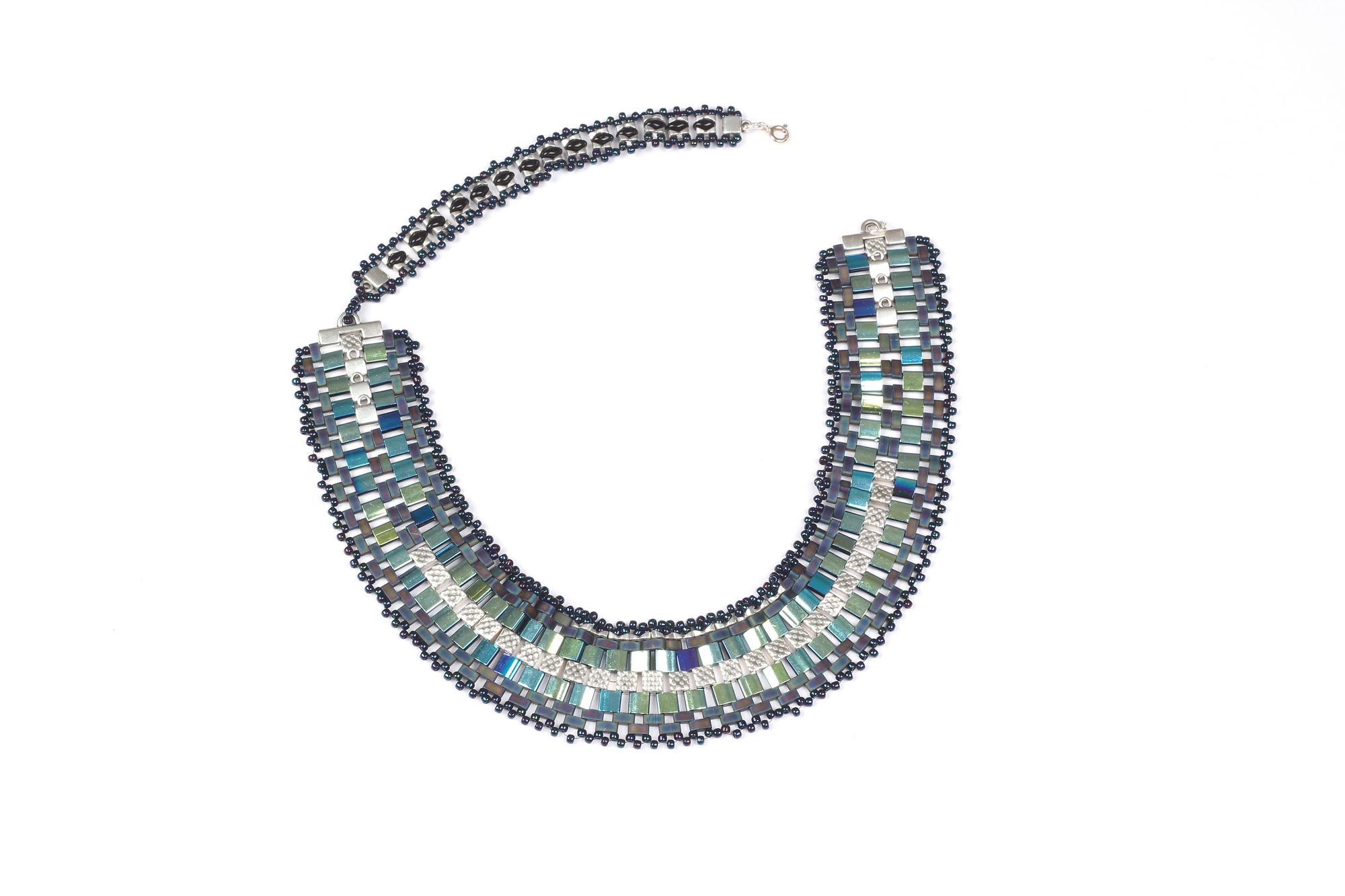 The inspiration for this came from a couple of different places, but the main one was after watching a programme celebrating the design school Bauhaus and particularly Anni Albers who, despite being effectively demoted to the weaving school (which was where almost all the female students were sent), became one of the most memorable members for her designs and subversive attitude to the weaving school.
When I saw the Cymbal elements they reminded me of some of her designs, and I set out to make a fairly linear piece with as many of the Cymbal elements in as possible, simply because I loved them so much!
I've been beading for about five years and enjoy bead embroidery mostly. I am generally inspired by mid-century design and fashion in my designs and love pretty much anything from the 1950's.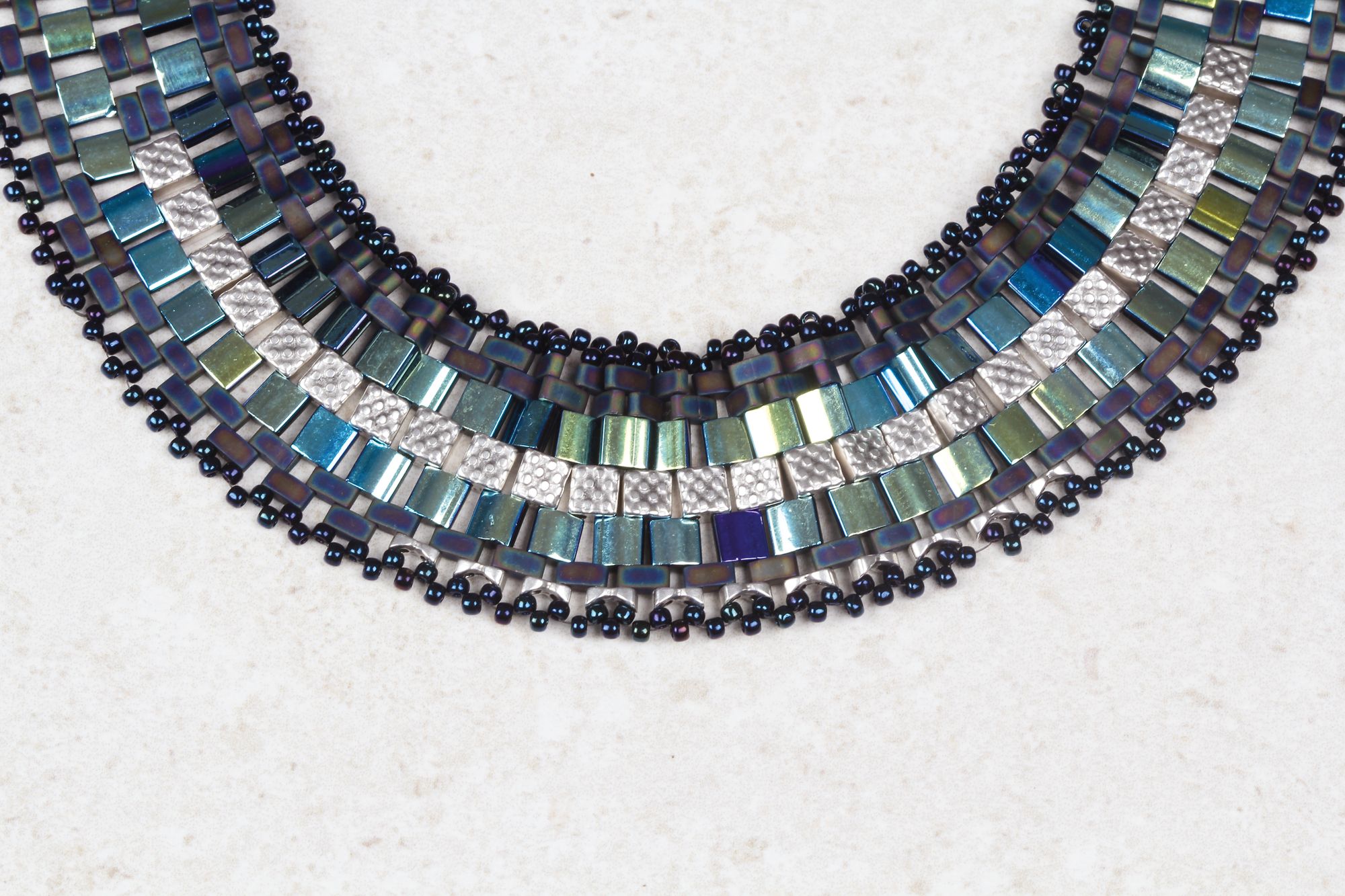 BEADSMITH said: The Annaleese Choker by Melanie Coulthard used Cymbals in a way we had not seen before, and we thought the colors made it very dramatic. We really want to see what it looks like when worn! Brava on thinking outside the box!
BECS DEAN-SKINNER      Caterpillar Bracelet
A bracelet made from a base of honeycomb beads, with an angular trim of Cymbal Tourkou side components, topped with Tila beads and terminated with Cymbal Soros endings. I wanted to make a slinky, flexible bracelet and thought using a base of honeycomb beads would add some interesting angles.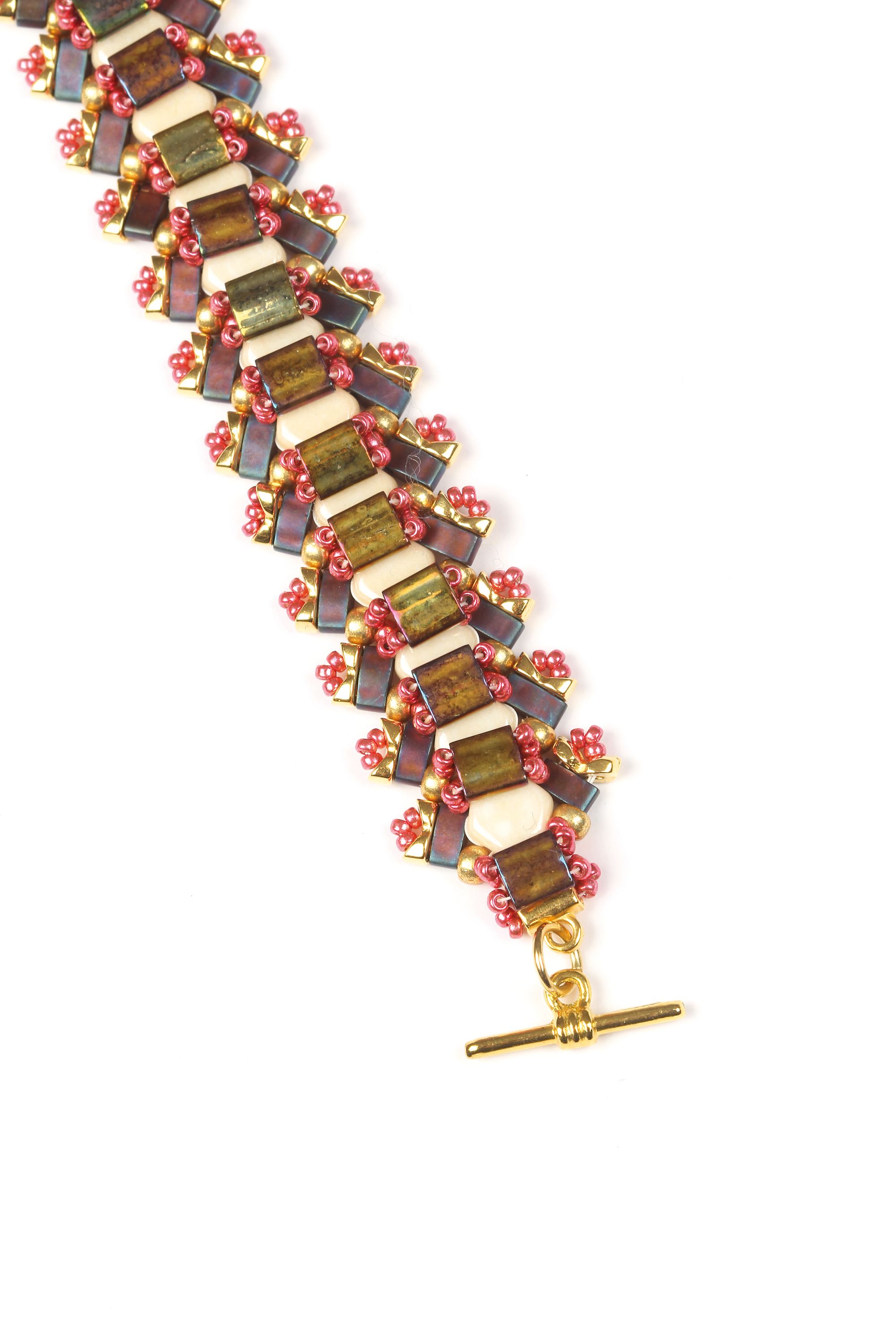 I've been beading for around 14 years. I learned from books and didn't know any other beaders until I met some through Facebook. I'm mostly inspired by nature and geometry – so flowers and geometric shapes appear in my work a lot. I sell my tutorials on Etsy and teach the occasional class.
BEADSMITH said: The Caterpillar Bracelet Becs Dean- Skinner used the Cymbal side elements in an unexpected way, and the design is appealingly organized and well made. We think choosing a more apparent color for the honeycombs would have added visual interest, but this is a highly wearable looking design!
And to sum up....
BEADSMITH said: As always, it was our challenge to choose a winner from among outstanding designs.  Congrats to all for great designs all round!  Many thanks to everyone, excellent designs all around!  Congratulations!
P.S.  Don't forget to take a look at Readers Challenge Parts 1 and 2 for other beautiful pieces made for this competition.
---