New Sparkles
Here at Tanzee Designs, we have just received several new custom coated Swarovski 27mm Crown Stones. Colours include Rosaline on White Opal, Aquama- rine Transmission and Majestic Blue. See our website for more information. www. tanzeedesigns.co.uk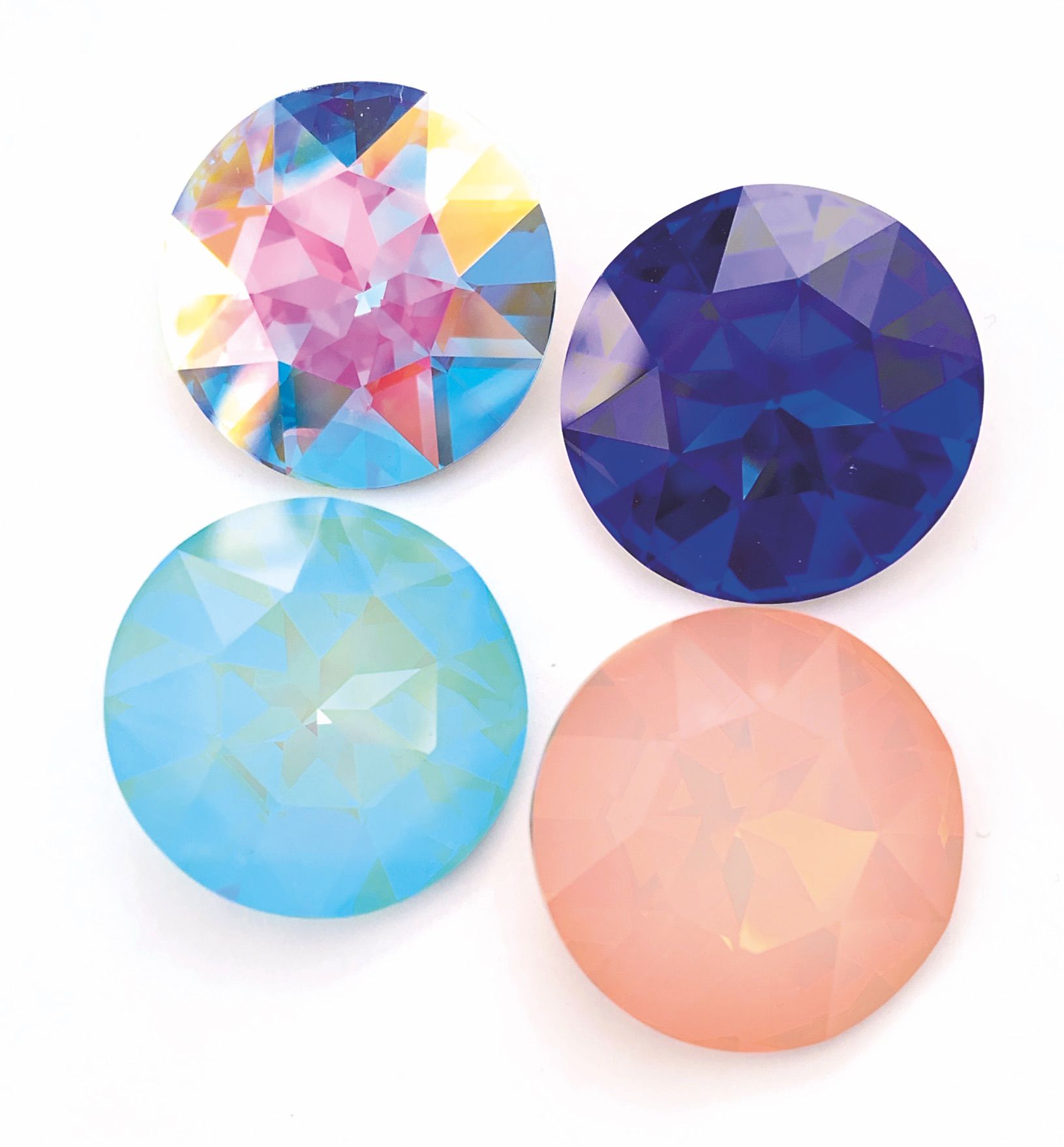 Delicious Delicas
Jencel has added 19 new colours to their range of Delicas. The new selec- tion includes shiny, vibrant and soft, matt shades and also the beautiful 24 Carat Gold Plated. Prices start at just £2.40 for 7.2 grams, and you can see them all on the New Colours page in the Delica section at www.jencel.co.uk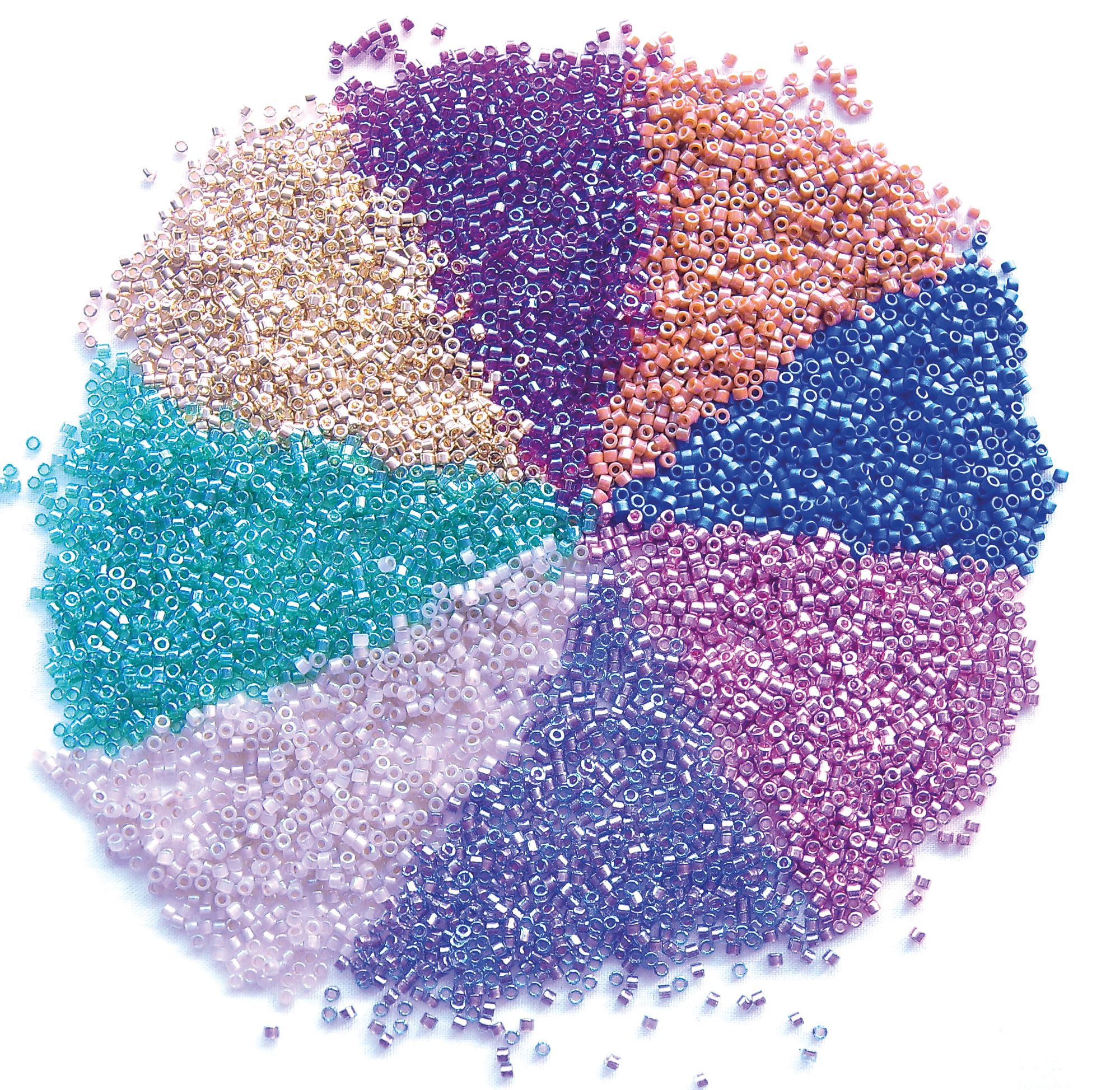 Fabulous Fire Polished
Czech fire polished beads are a popular type of glass beads. These polished glass beads began to be made 500 years ago in order to imitate the ap- pearance of polished precious stones, while also preserving the option of stringing the beads. In the past, the beads were polished in a kiln fire. That is where they got their name. Preciosa Ornela offers a wide range of shapes, including balls, pears, parachutes, olives rondelles in its PRECIOSA Traditional Czech BeadsTM brand. Thanks to the various types of cuts, such as multiple, diamond or rose cuts we are able to provide tens of combinations and types of fire polished beads for your costume jewellery. You can also choose from a range of surface finishes including iris coatings, lustre coatings, vacuum coatings, luxurious precious met- als, linings and many others. www.preciosa-ornela.com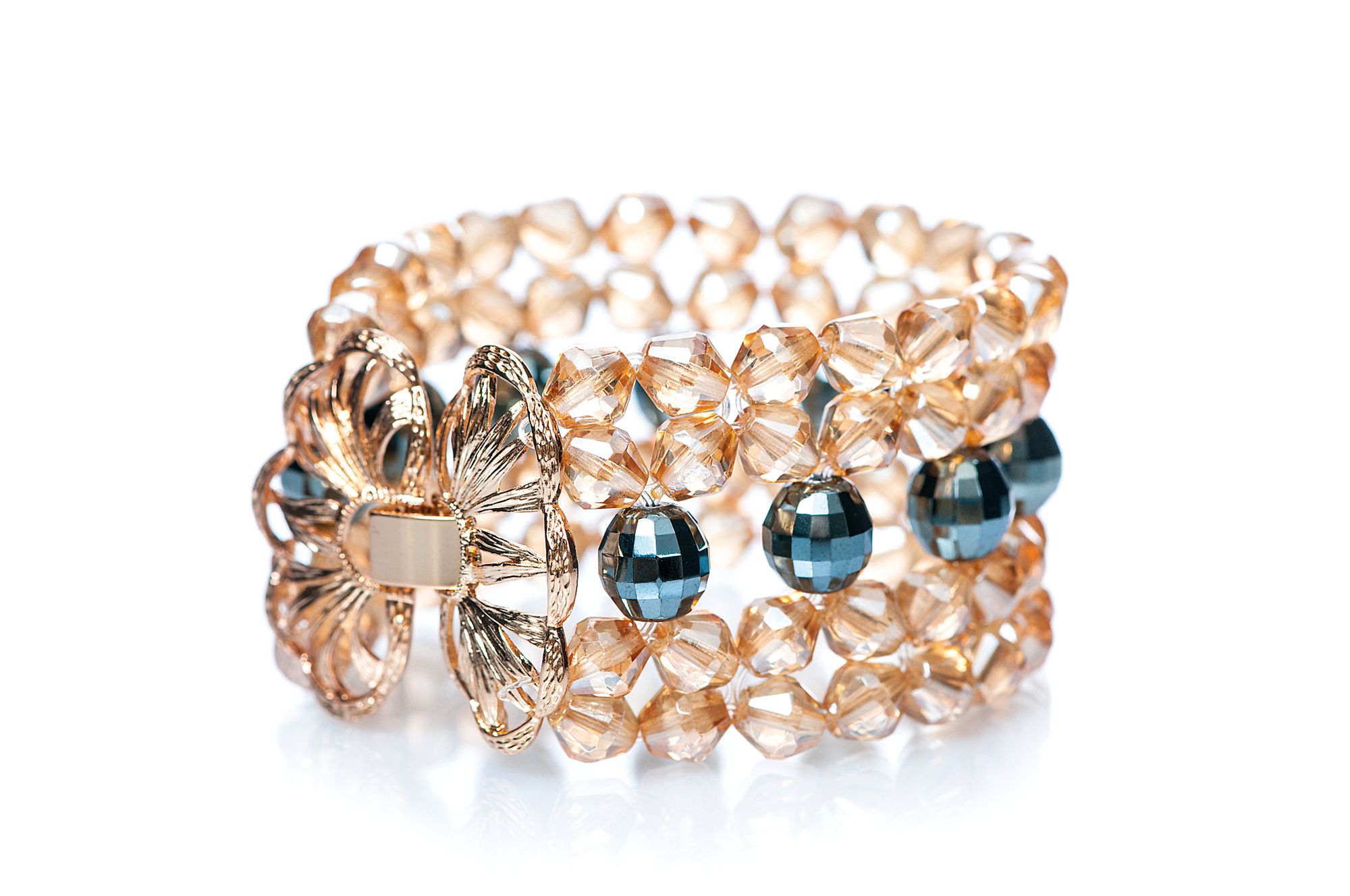 Czech them out
Beadsisters have these lovely Czech glass cubes Made from a beautiful mix of coloured glasses, the rose garden and marine cubes measure 6x7mm. They cost £1.25 for 50 and £5.25 for 250. www.beadsisters.co.uk.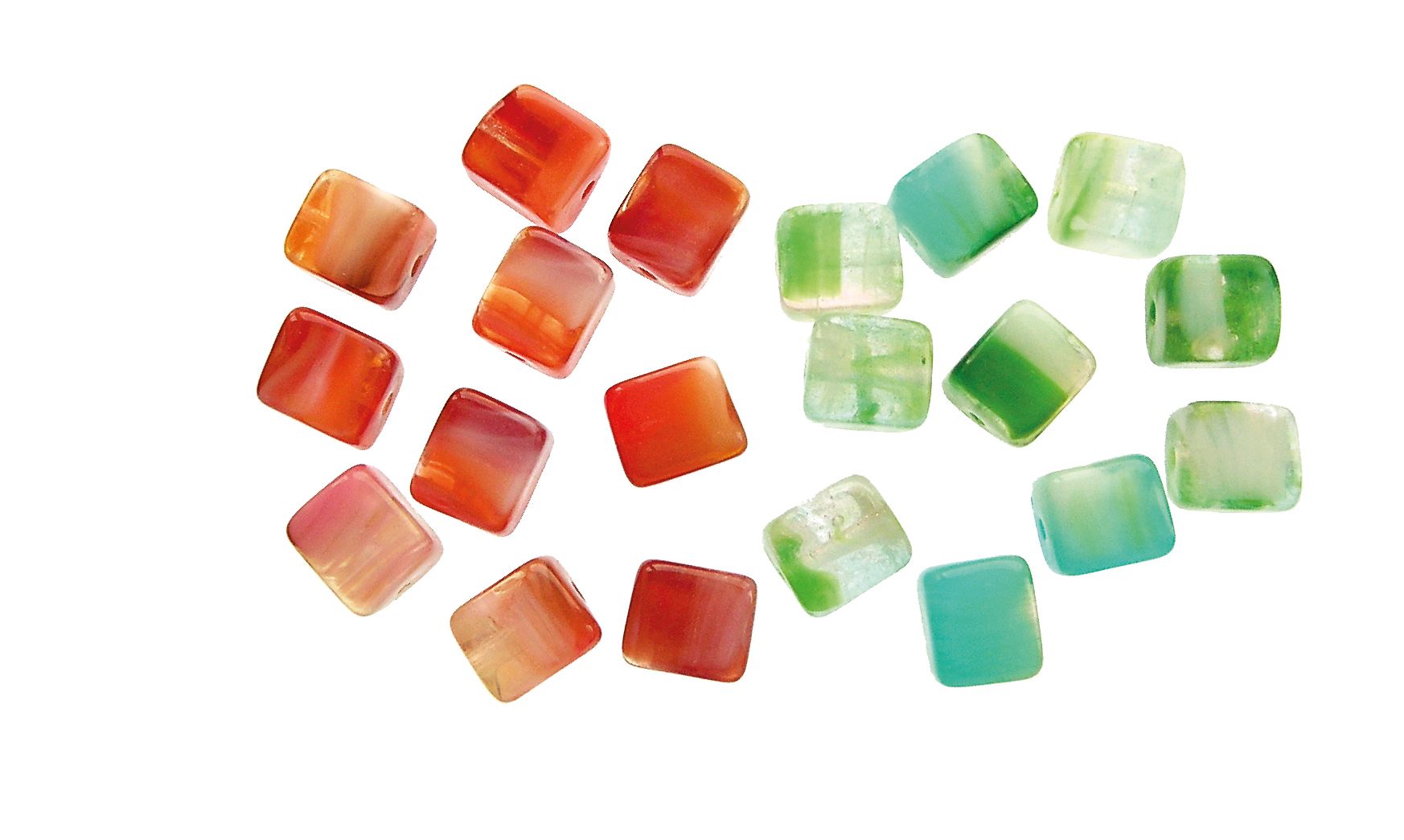 Pagoda Palace
New from Spellbound Bead Co there is a cute set of two stacking boxes disguised as a Pagoda Palace. At 8cm high, it's available as a kit for £36.50 or a downloadable pattern for £11.50 (complete bead pack £25). Find it and lots of other lovely kits at www. spellboundbead.co.uk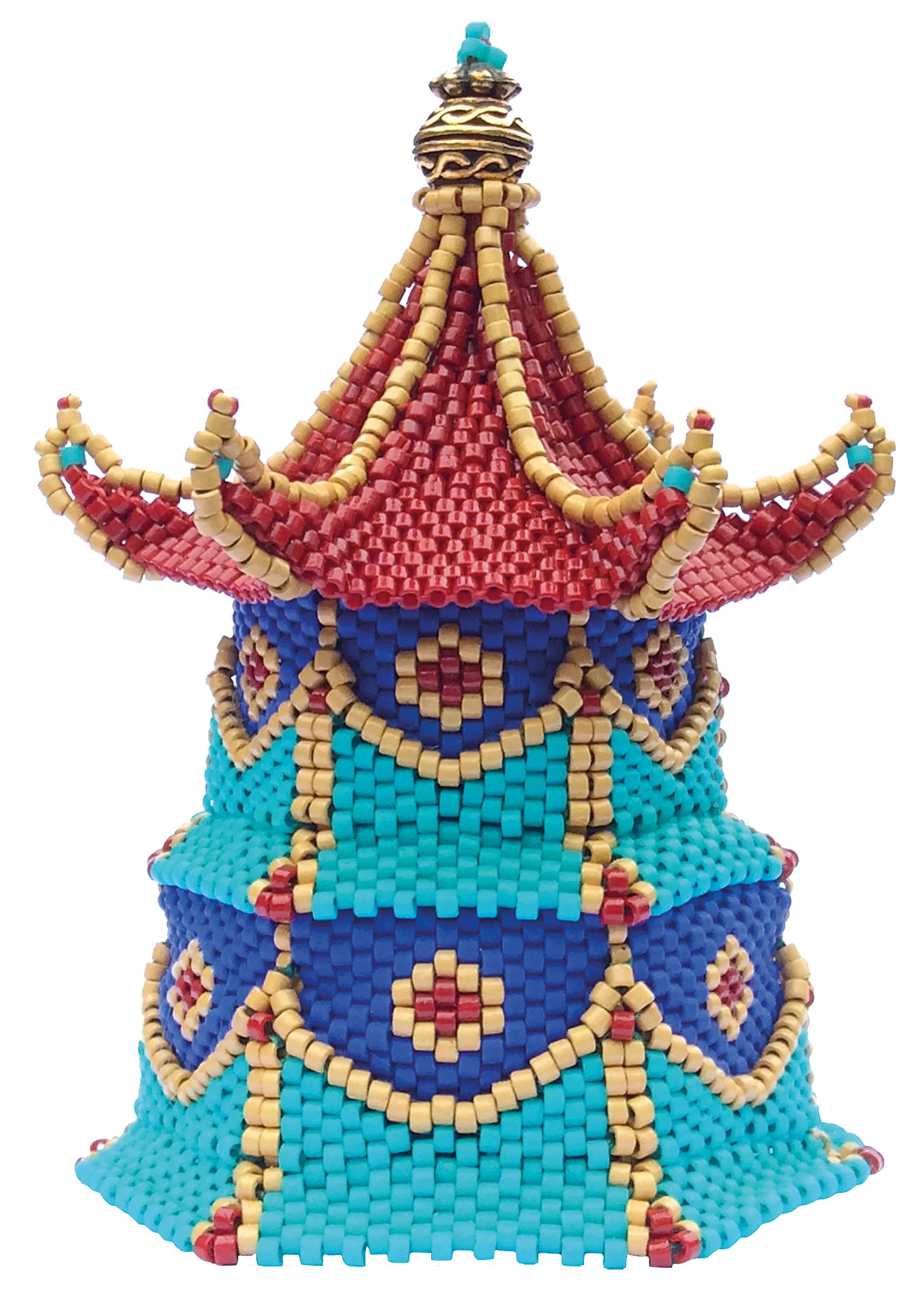 10th Anniversary
At JewelleryMaker we know that a fun hobby is a great way to pass the time! Keeping your bead and gemstone stash full so you can be free to let your creative juices flow is everyone's desire. Visit www.jewellerymaker.com/beads/ for amazing beading and jewellery making supplies you'll love. To help you build your stash, we're offing you 10% off your next order when you enter discount code STASH10 at the checkout. Offer Includes web and auction Items plus free standard delivery. One use per customer. Offer expires 9/8/2020.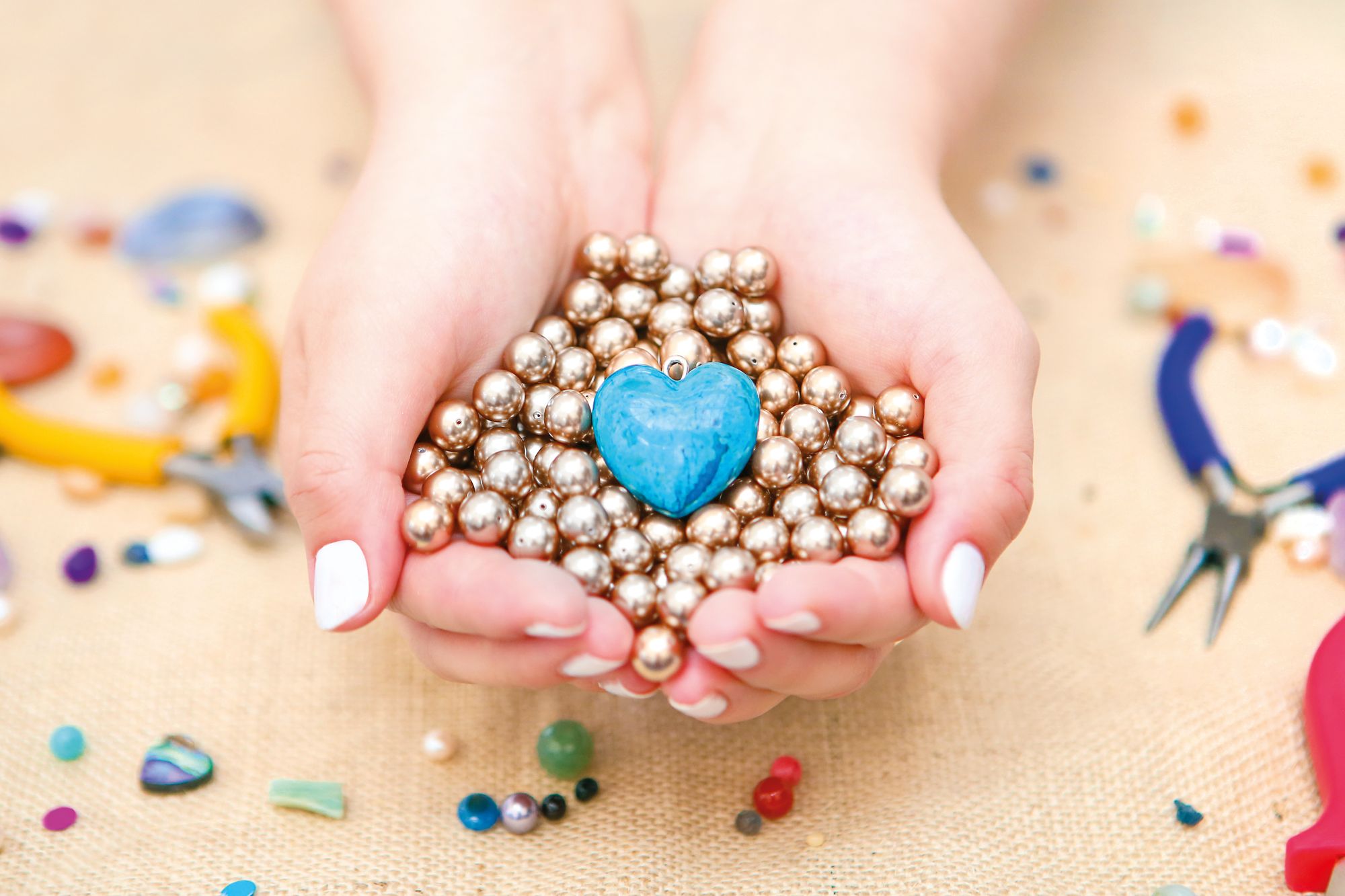 Fun Fixer Beads
Instead of bezelling around a cabochon or Swarovski Rivoli, why not use the new Czech Fixer Beads from Stitchncraft Beads? The Fixer Beads have a unique groove on the inside and are available either with a horizontal or a vertical hole. They can be used in a variety of configura- tions that can be easily combined with your favourite beads to produce unique designs. The beads measure 8 x 7mm and are sold in packs of 20 from £1.95. www.stitchncraft.co.uk or telephone the Studio on 01747 830666.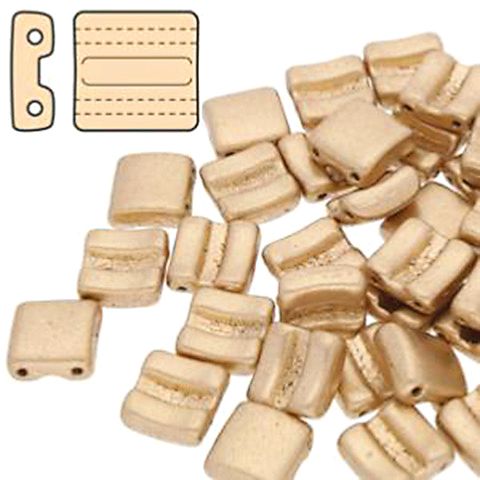 Thank you NHS
ThreadABead is offering this adorable little medic with a big heart pattern for FREE, to bring a little smile into the world and say thank you to all those out there helping to defeat the virus. Pattern available from ThreadABead.com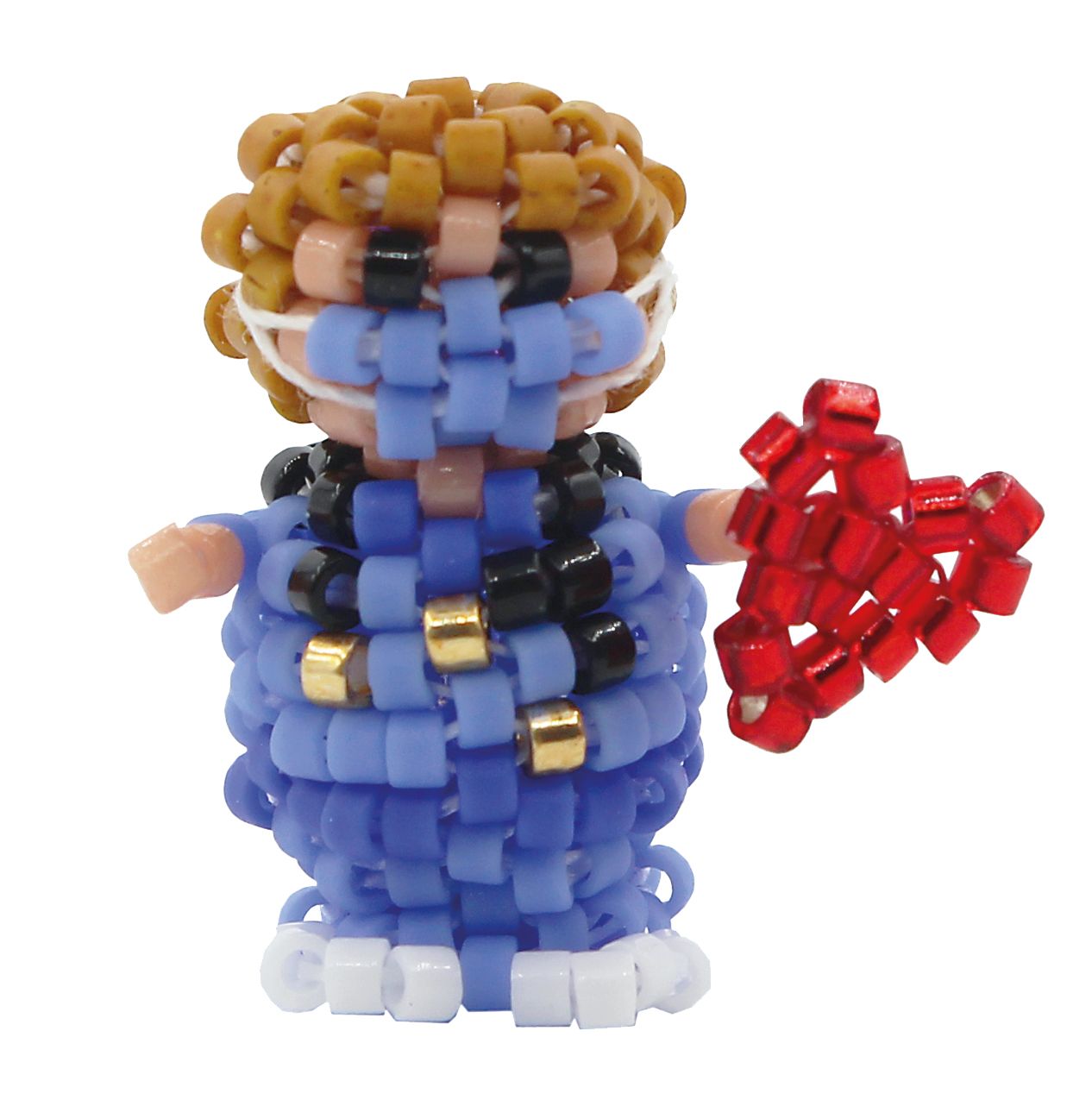 New Miyuki
CJ Beaders have been busy adding to their extensive range of Miyuki Delica and Seed beads, including new colours to their Cut Delica range. These simple, precision- made beads bring every design to life with their huge selection of colours and finishes. Choose from over 1,000 colours of Deli- cas and over 450 colours of Seed beads. Prices and weights vary so pop over to their website www.cjbeaders.com to see them yourself!