Sabine Lippert is a much loved beading superstar. She is invited to travel all over the world to teach her lively and fun classes. When at home, Sabine is hard at work creating an astonishingly prolific collection of gorgeous kits and patterns to keep up with demand from us eager beaders. We got her to slow down just enough to find out more about her dream of a beading life.
Hi Sabine, can you start by telling us a bit about yourself. I live in a small town call Sankt Augustiin, near Bonn. I studied medicine and worked as a hospital doctor specialising in Urology until 2000. Up until about six years ago I practiced as a private consultant.
Since I was a little child I was eager to craft. My mother helped us making little handmade gifts for the family at Christmas or for birthdays. But when it came to needleworks, my sister and I were taught the basics and the rest was left to us as they were not my mother's favourite things to do. We literally learned by doing.
At school I was the knitting nerd and later I figured out tatting, lace crochet, any kind of embroidery techniques, bobbin lace, whatever I found, I had to give it a try at least. Some things were really hard to find in those pre internet times! Of course
I also tried some beadwork but due to a lack of sources, this was no fun, as the only beads I could get at the time were in a very low quality.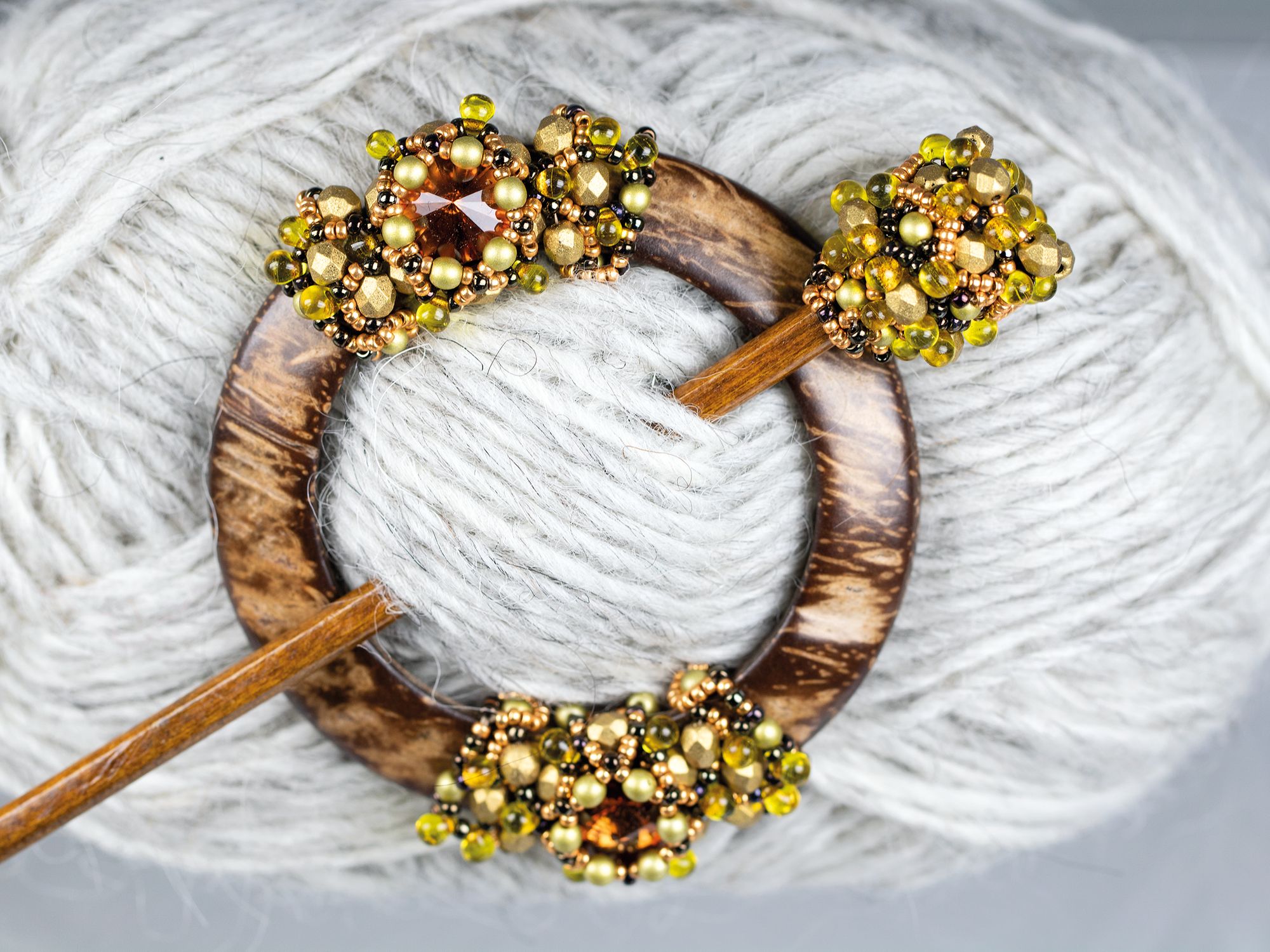 Can you describe how you got into beading? In 2006 I stumbled into a new bead shop in my hometown and what can I say, I was lost. These little beads were just my 'buddies'. No other crafting technique ever released my creativity like the beads did and still do. I daydream in beads. Sometimes when people talk to me, it can happen that my mind wanders off and I am bead-dreaming. (My apologies to whom- ever has had to experience that).
Soon after, I started writing instructions and taught my first workshops, discovering that I love to share and spread my bead addiction over the world.
Some years ago I cancelled my daytime job as a physician as my beading became more and more successful, but also time consuming, and at some point I had to make a decision how to continue. To make a long story short, the beads were victorious!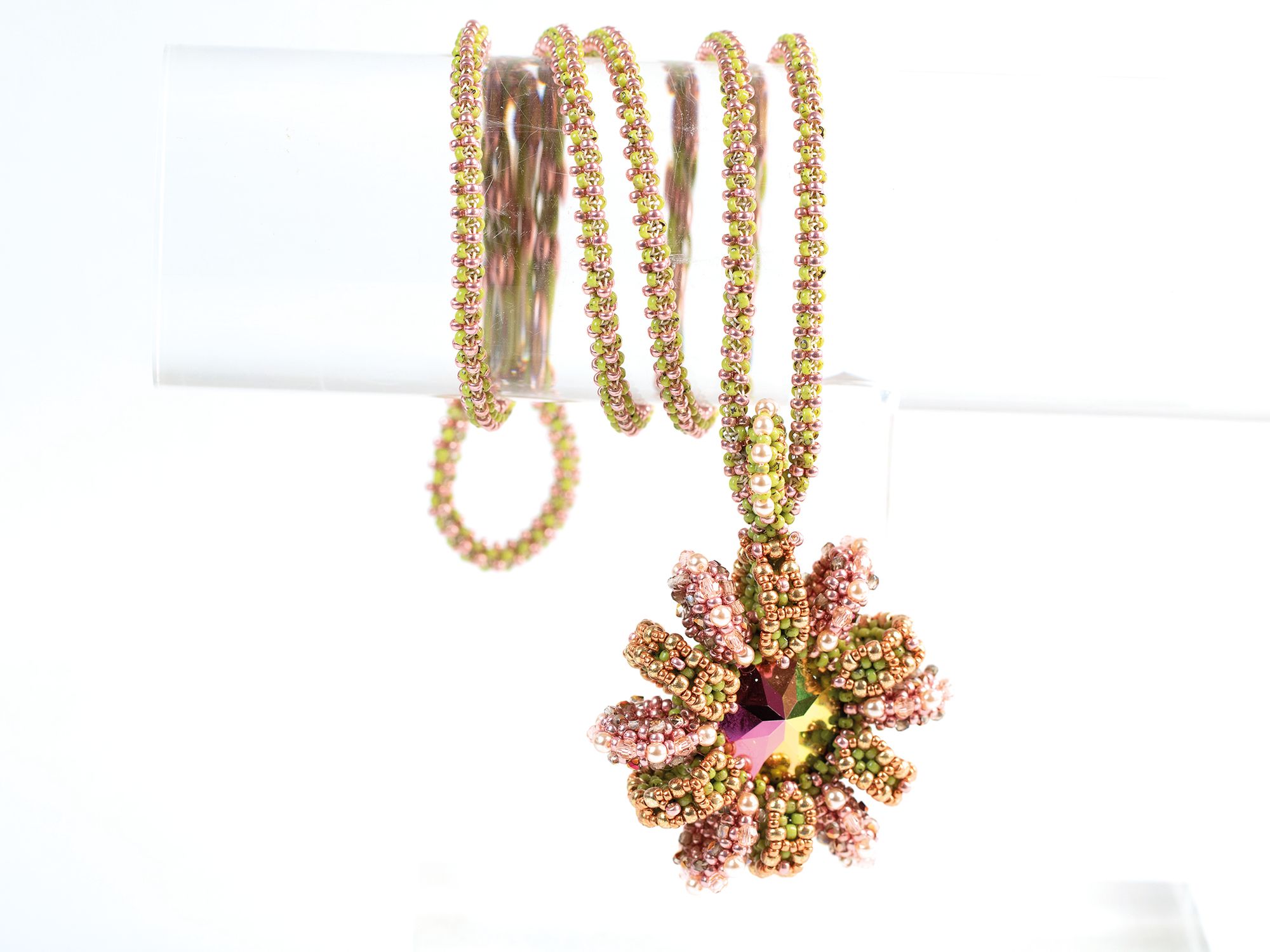 What materials / technique etc do you commonly use in your work? I am a seed beader, mostly using bead weaving techniques like RAW, Peyote etc for my patterns. I also love to do bead embroidery, but rarely find the time. I've had great fun lately with a technique I call Double CRAW, I shared the basics of the technique online earlier this year and can't stop experimenting with it in my new designs. It's just a really versatile stitch which creates a lovely texture and is really fun to work in 3D, so I can build the shapes I have in my imagina- tion. A unit of Double CRAW has so many points that you can start from. I also really like to mix techniques together, so for example I might grow some RAW from the surface of Peyote. I'm very happy to just sit and play bead engineering.
What are your masterpieces or pieces that you are most proud of? Is there anything you do that's 'uniquely you' or that you're specially known for? I always love my latest piece most, but honestly, they are all my babies so there is not one that I prefer from the others. I am not a maker of masterpieces, I develop pieces for others to recreate. When I work on something I always ask myself if it will translate into a pattern, if not, I keep modifying it until it is. I always say I do the beading Tupperware. I make practical, doable things with a high level of quality (at least as high as I can, nobody is perfect) but I leave the Meissen Porcelain masterpieces to the others.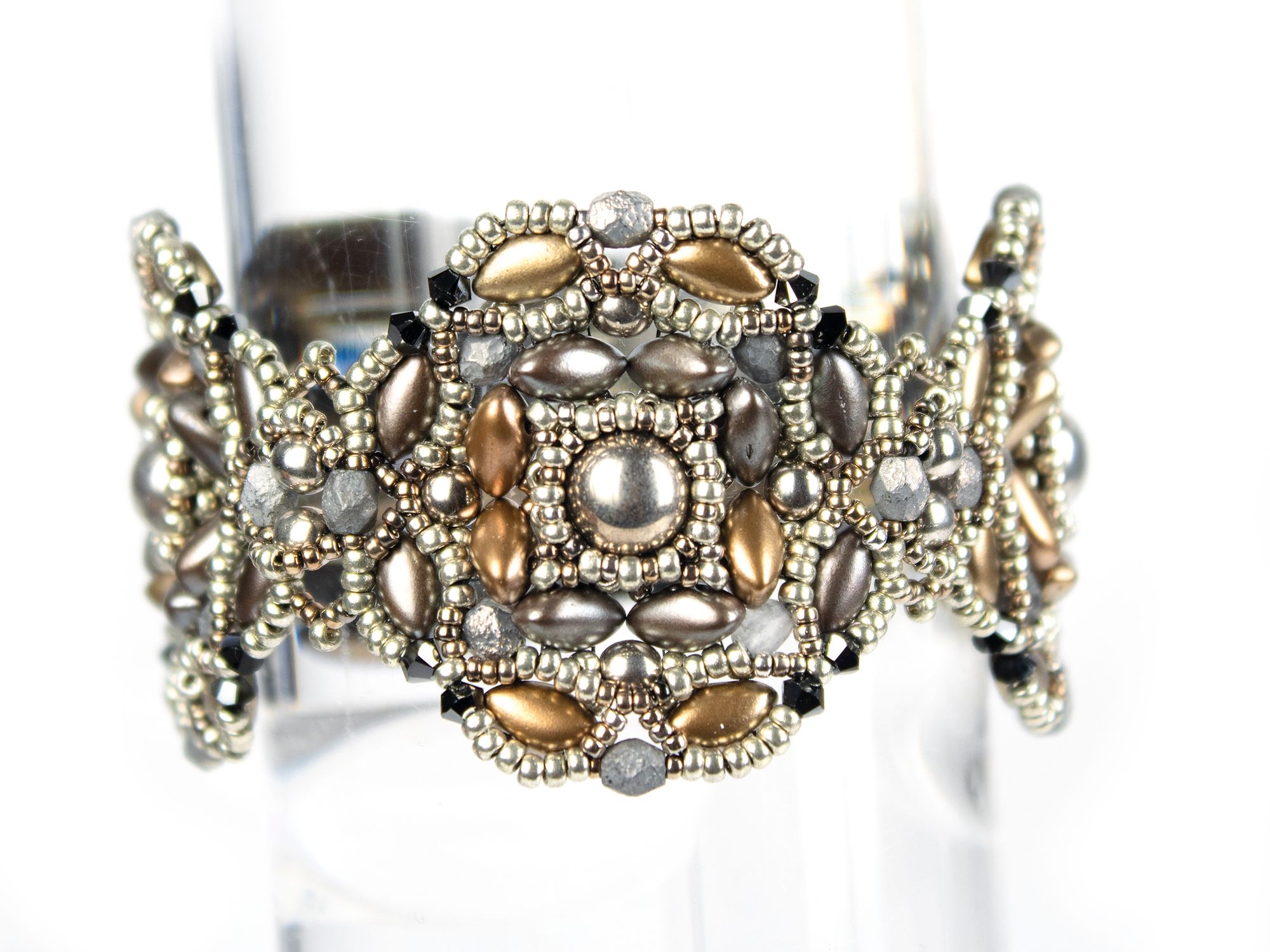 Where do you get your ideas? What styles, subjects do you like to do most and why? What is your favourite design (of your own) to date? Most of my pieces grow out of techniques. I start bezelling something and then go from there. My original plans might be overthrown completely during the process, which is what is so exciting and engaging about the way I like to work. One idea sparks, then the next, and the designs just grow that way. My first piece is all about the technique then, if I like the result, I will pick out colours. Often I mix my bead colours so it's easy for the beader to see, for example, the base, the next layer and so in.
Of course Movies inspire me, especially historical movies, but also architecture, pretty much wherever I find myself whether it's in a new place or a museum, I start to daydream in beads.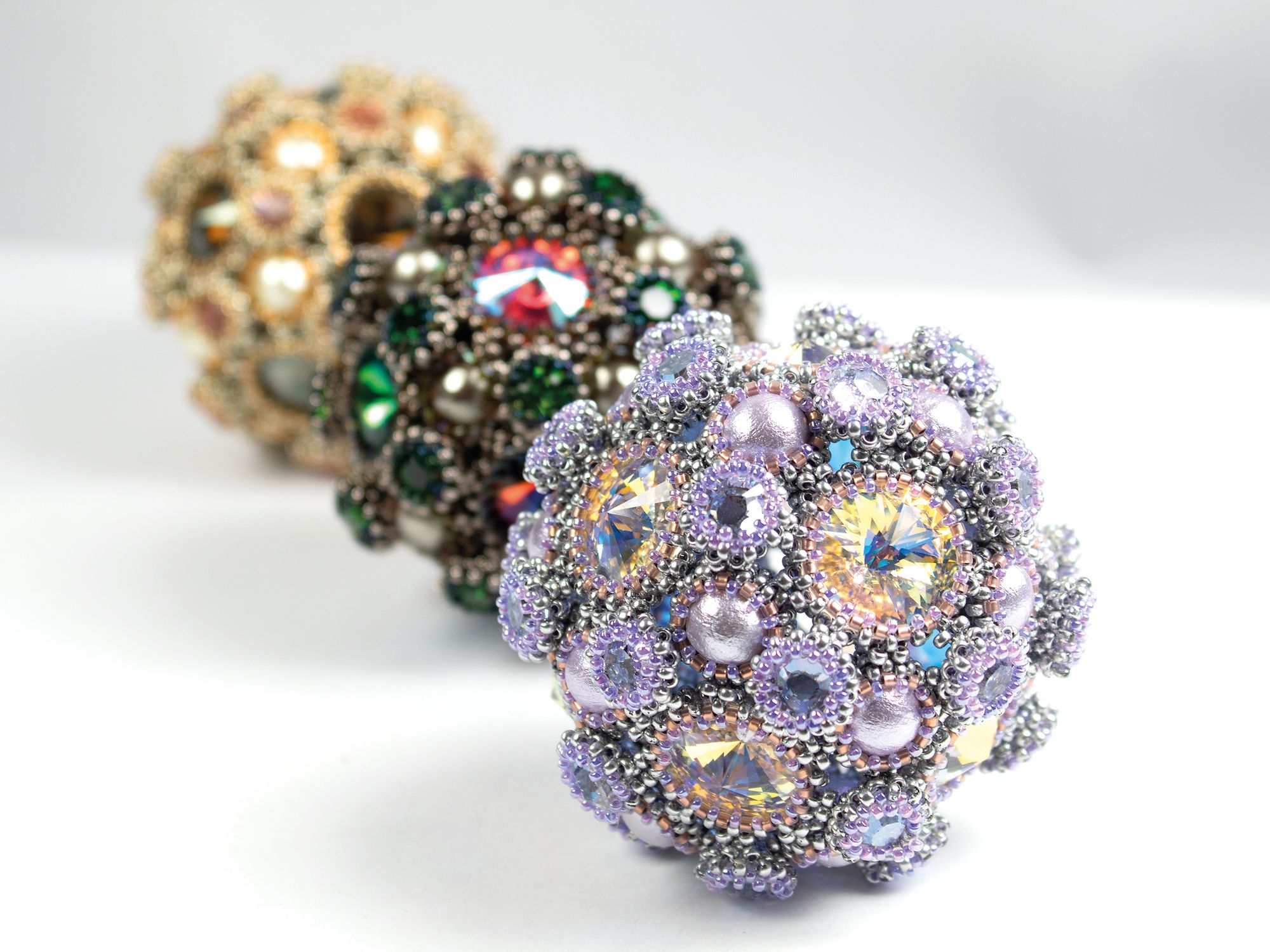 Do you teach your craft at all? Yes, I do teach a lot in the UK, USA, Germany, Netherlands, Italy and Japan. A large part of my year is taken up travelling to teach. I teach because I love to share my beading ideas and techniques. I also have a beading retreat in the South of Germany and invite guest tutors. This began as a gathering of beading friends but has grown into quite an event with a long waiting list of students. As well as regular beading classes, I have crazy multi choice classes where students can pick from one of 20 plus designs. At the other end of the scale I have started making Masterclasses which last two or three days and that enables me to teach much more detailed processes, which I love as students get to go into detail with a set of ideas.
Have you written any books, or are you working on any at the moment? I published my first book in Germany in 2009 and that is also the year when I got my first invitations to teach abroad. My books are The Beaders Cookbook (Creanon), Beaded Fantasies and Beadwork Evolu- tion (Both by Lark Publishing USA). Some of these are now sold out. I don't have plans for a new book just now because my schedule is so full.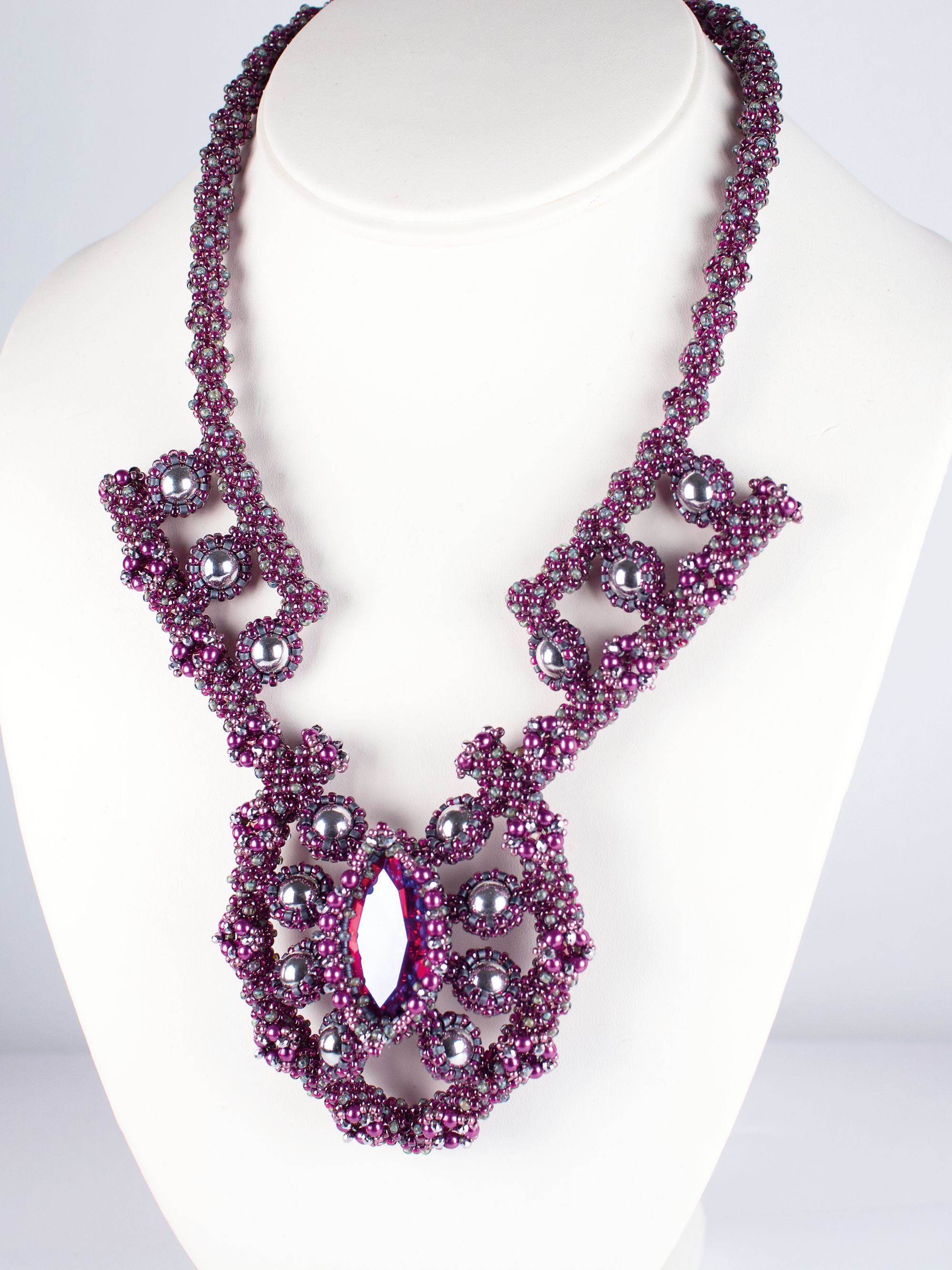 Describe your workspace. I have a 30 square metre room which is lined with wooden shelving made for me by a carpenter friend, the shelves hold all my beads and kits. I have a desk for my computer, a big table where I put together the kits for my website and for classes, I also have a very comfortable chair. I work in one of these three spots, depending on what I am doing. I love beading in my chair, feet up on a stool and my little dog Pia next to me.
In fact, after a lot of travelling, it is so nice to just come home to nest in my bead sanctuary for a bit, just me, the beads and Pia.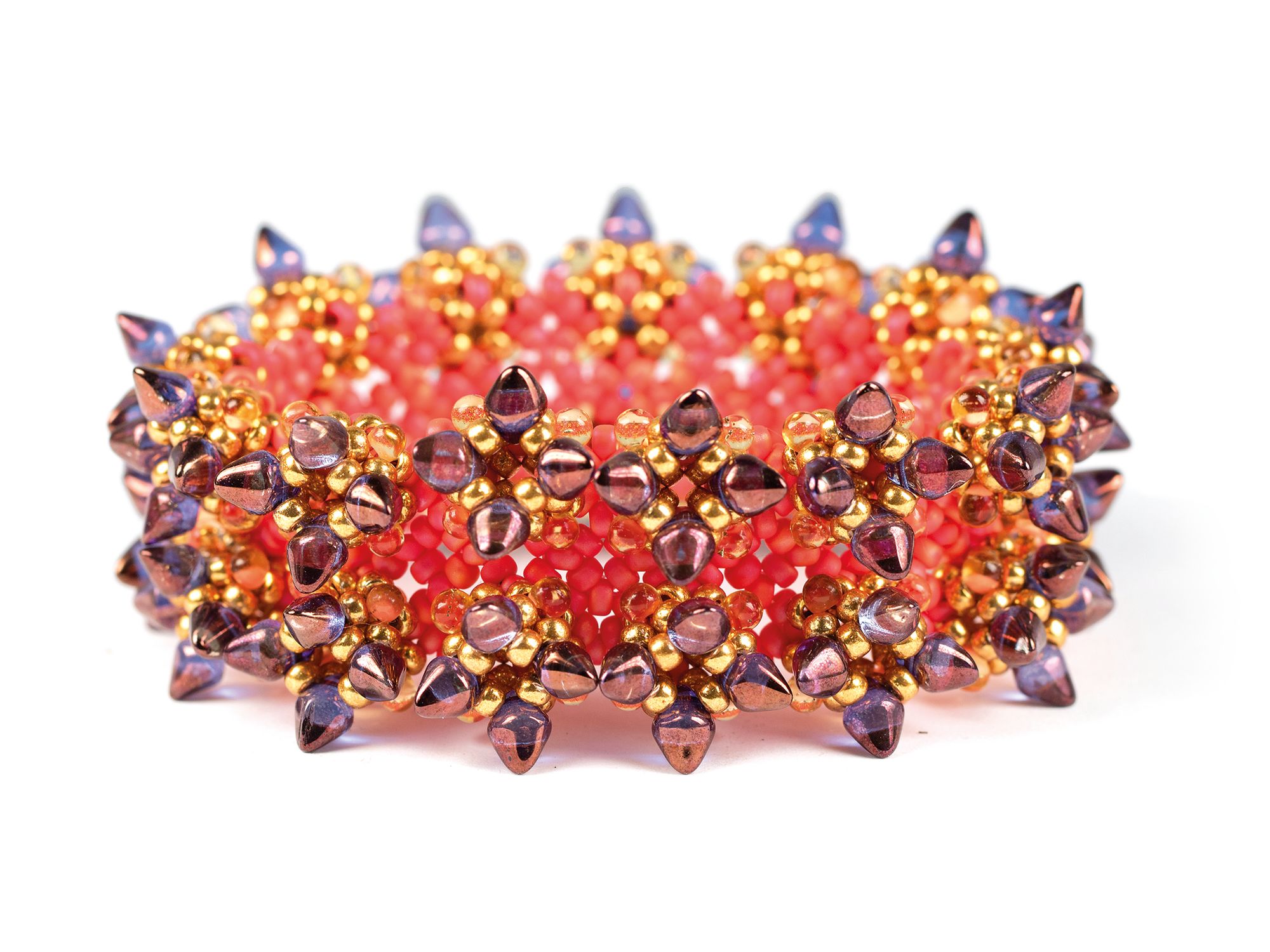 Do you work by yourself or have you collaborated with anyone else? Do you regularly work with others? I prefer working on my own as I hate it when I get disturbed in the process. After 25 years in medicine I appreciate the solitude of my 'office'. I love to have the TV on and binge watch my favourite series, like Downton Abbey, Outlander and The Medici's.
My biggest collaboration so far, is working with a Czech glass bead manufacturer to create the beads I really wanted to use, beads that add something extra to seed beading without being too big or over the top. My bead babies include the Rizo bead, O bead, Button bead, Dragonscale bead, Dome bead, Gekko bead, Button bead and Spiky Button bead. I also get sent new things to road test from manufacturers of components and findings and I try to create 'Sabine' style kits and patterns to show how they can be used.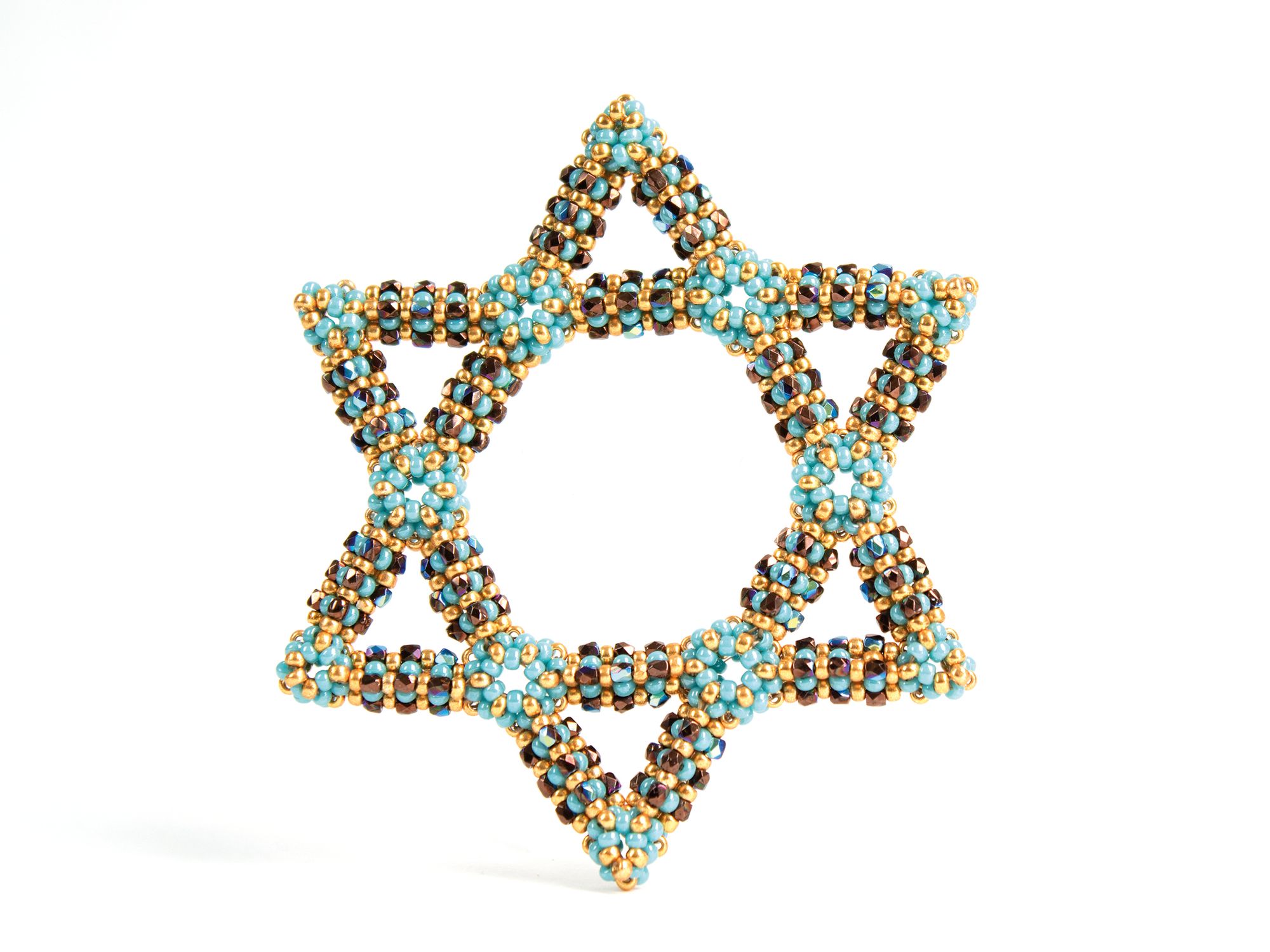 Do you have any goals related to bead making/ beadwork/jewellery making/ de- signing that you would like to see become a reality within the next 5 years? How are you working toward that end? I really feel like I'm already living my dream so there are no other goals. Just to keep going and share all the ideas I have in my imagination.
What have been your biggest personal challenges, and accomplishments? I think my biggest accomplishment is that I have an eye for sizes and colours. I rarely do frog stitch when I make a piece, it just fits in. For example, I spill out a bunch of beads on my bead mat, create a component and it uses exactly the beads on my mat, I love it when that happens!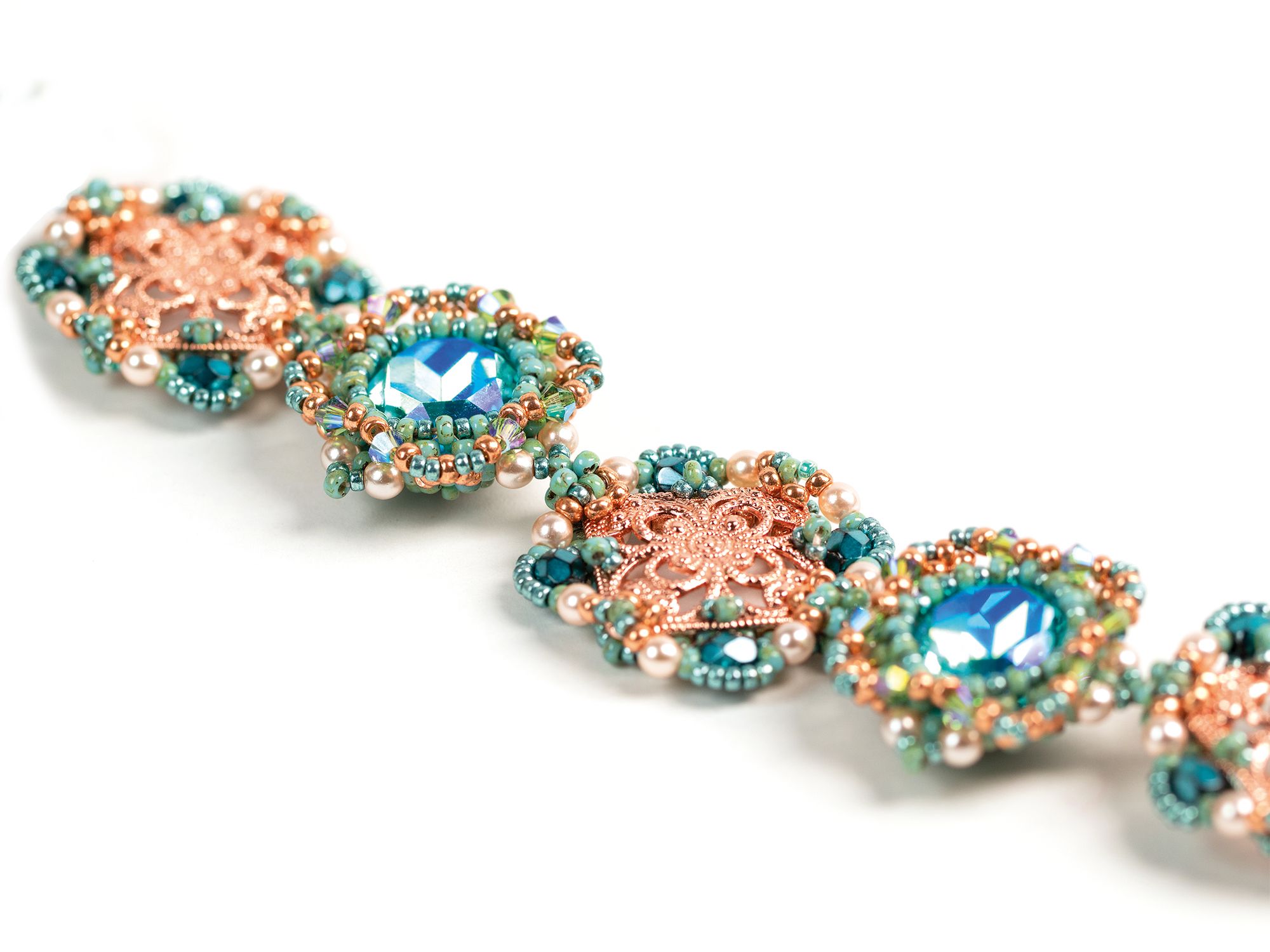 Anything else you wish to share that might be of interest, or inspiration? I read an article interviewing German Pole Vaulter. He was asked how he got the idea of starting this kind of sports. And he said "When you love something and you are doing it with all your heart, passion and power, then it does not count how crazy or unusual it sounds for others. You will be successful, because you do it with all your heart, passion, power and love! That is the most you can give!" 2 month later I cancelled my daytime job as a physician and decided to continue on the beading trail.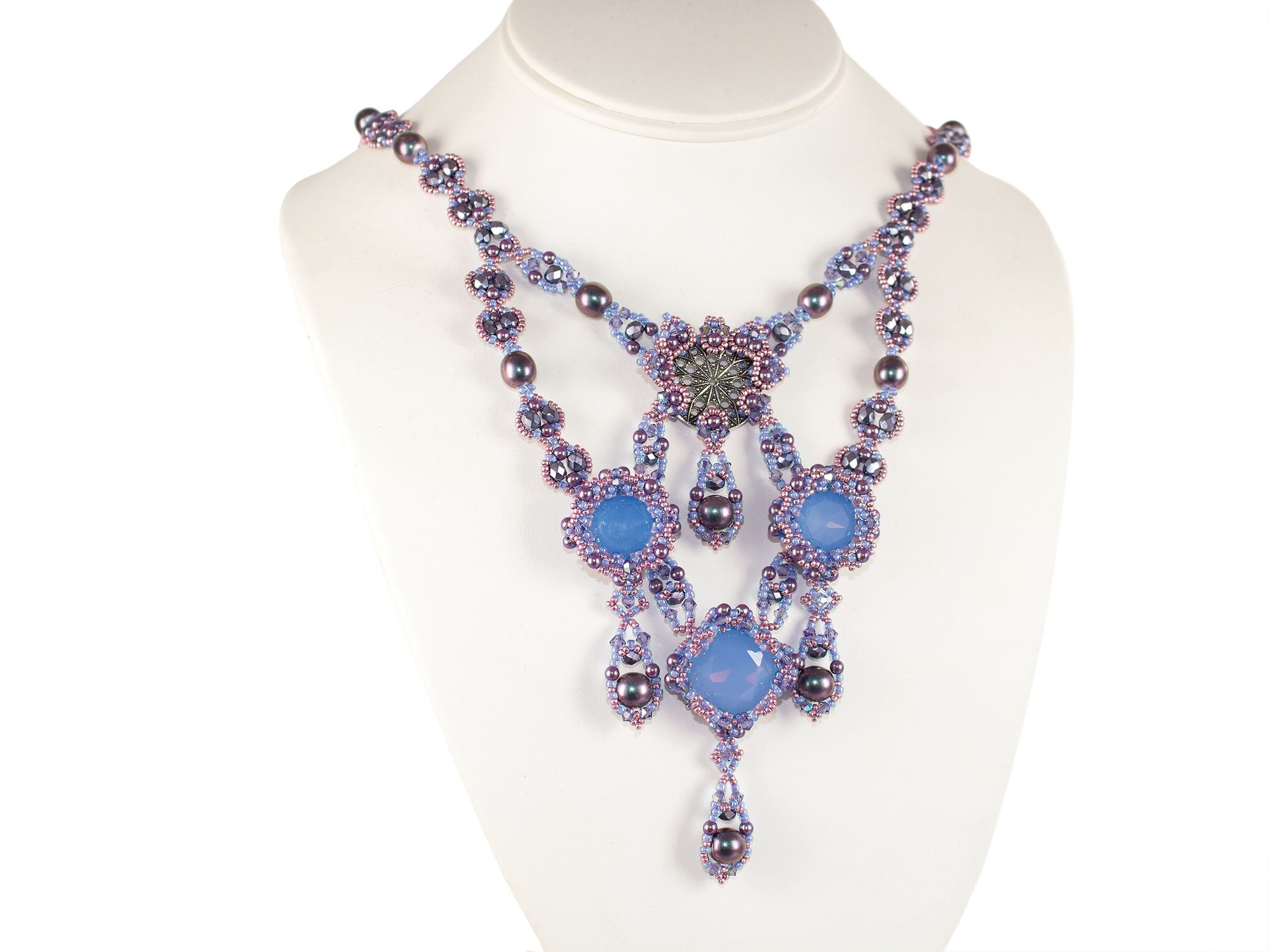 Sabine's designs are available as downloadable pdfs, materials packs and complete kits. She also sells a collection of the components she uses in her designs.