Can you start by telling us a bit about yourself? I was born and raised in Washington, DC. I moved to Philadelphia to pursue my degree in Fashion Design and decided to make Philadelphia my home. I currently live here with my two rescue cats, Ginger Snap and Frankie Lind.
I started my business, Twisted Sistah Beads part-time in 2002. I then switched to running it full-time in 2008. As Twisted Sistah, I vend at retail bead shows and fibre-related shows, in addition to teaching and e-commerce selling. I have always been drawn to beads, so I think beading chose me rather than me choosing it. Although I started late in my creative endeavours with beading and Jewellery making, it is now such an integral part of everything that I do there is no longer any separation of it in my life.
In 2017, I began my position as Senior Designer at The BeadSmith, where in ad- dition to designing with and testing new beading products, I manage and support our international team of designers (The BeadSmith Inspiration Squad).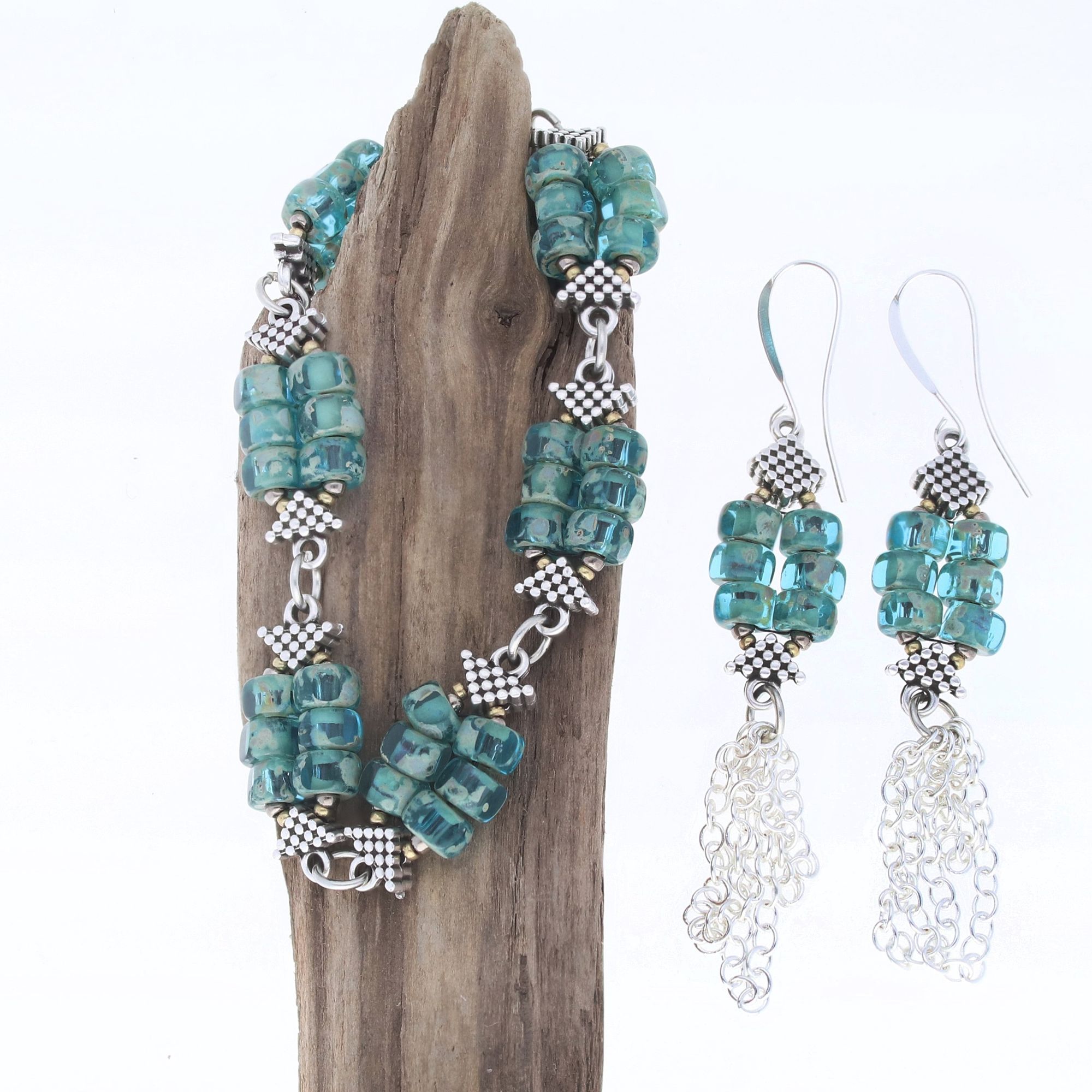 What materials / technique etc do you commonly use in your work? My favourite medium is Japanese seed beads. I also use any other materials that I can incorporate with seed beads artistically. I sewed, knitted and crocheted before falling in love with seed beads. Bead crochet is still one of my first beading loves because I get to create with seed beads and fibre. My biggest challenge in using seed beads is finding enough time to use them all. I love all the colours, finishes and shapes and it's an endless playground for me.
Have you formally studied any relevant courses? I have a Bachelor of Science degree in Fashion Design from Drexel University and this included colour theory, art history, painting, drawing as well as sculpture classes.
When I first began beading, I took a lot of classes in a lot of different techniques.
Are there any pieces of jewellery that you're most proud of and that you consider to be uniquely you?  I am proud of every piece of jewellery I make. Each piece presents a challenge as well as a learning experience. I enjoy exploring new ways to use all the different bead shapes. People frequently say my finished pieces are very fabricesque in nature. I think that is from my working with fabric and fibres for much of my creative journey.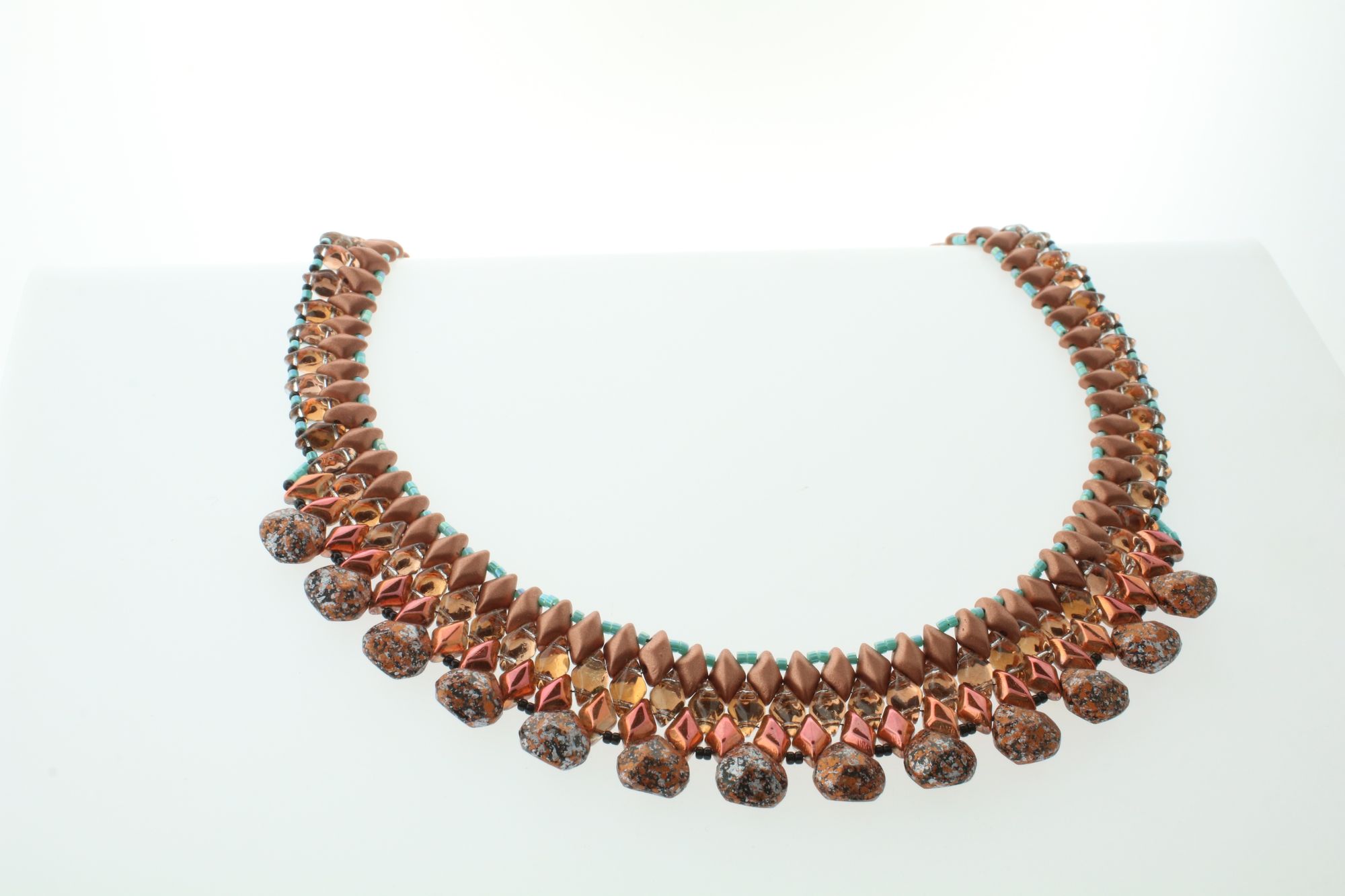 Do you make finished jewellery or beads? I do make finished Jewellery, although not to sell. I mostly use seed beads, and I frequently incorporate artisan beads, lampwork glass, ceramics and metal into my work.
Where do you get your ideas? I get my ideas from everywhere, and I never know when something random will send me down a rabbit hole. The beads themselves often inspire me the most, and they tell me what they want to become. My all-time favourite design is the first piece that I had published, the Magatama Mambo. A bead crochet lariat with lots of fringe. It presented me with a lot of design of challenges, plus the learning curve in writing the instructions.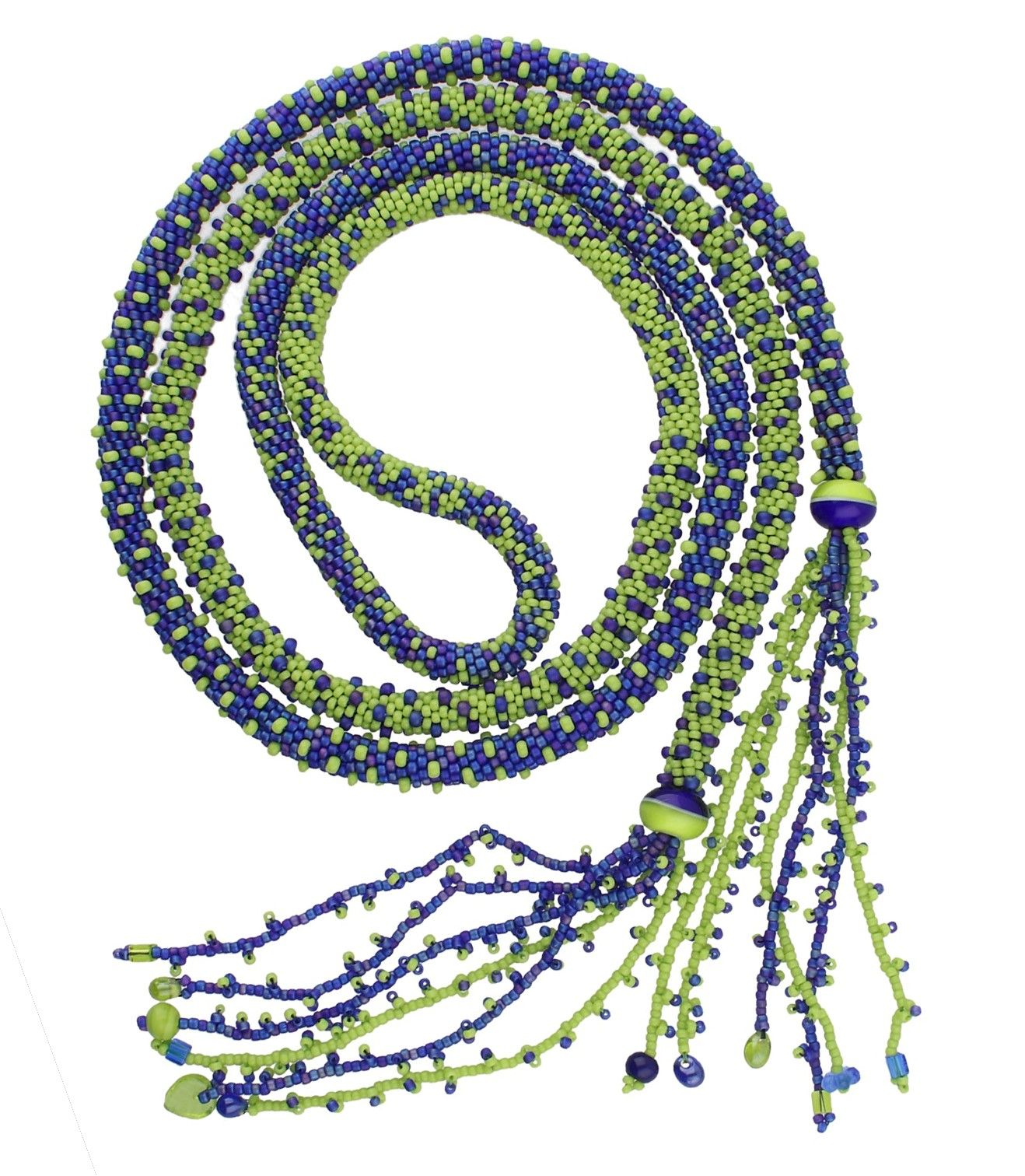 Do you teach your craft at all? Yes, I do teach, and I first began teaching in 2003 but put it on hold when other areas my business became more pressing. I returned to teaching several years ago and realised that I missed teaching a lot. My customers and colleagues convinced me to return to teaching, and hopefully, I am filling a need in the market.
I organise my classes for bead societies, bead shops and other groups as well as large bead shows.
I enjoy the camaraderie and energy of teaching. It's very fulfilling to watch a struggling student make a breakthrough or gain confidence in their skills. I always find I learn things from my students as well as them learning things from me. Probably my least favourite aspect of teaching is making the kits.
Have you written any books, or are you working on any at the moment? I have been published in several magazines, as well as a couple of books. I have not written a book, but I do have a couple of ideas in mind that I would love to write.
Can you describe your workspace? I long to have a studio of my own, but I live in a one-bedroom condo. The best I can do is a dedicated table, which is always a mess, and I'm too embarrassed to take a picture for this interview.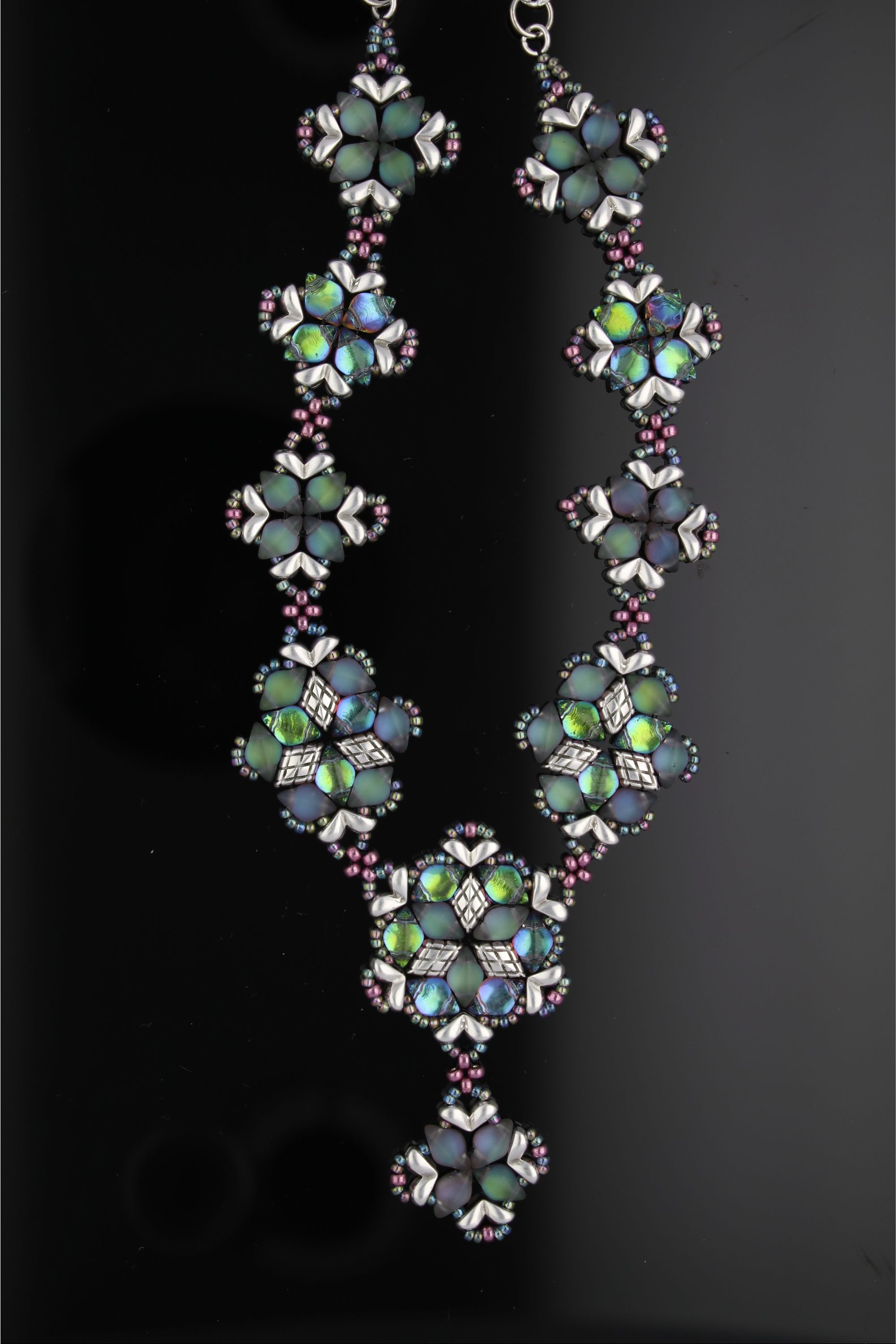 When it comes to the software I use, my colleague and good friend Leslie Rogalski introduced me to Adobe Illustrator, and I haven't looked back. It's a fabulous program, although not very intuitive, but when you get the hang of some of the program features, the sky is the limit. It elevates the quality of your instructions when you use a good program like Illustrator.
Do you work by yourself or have you collaborated with anyone else? I mostly work by myself, but as often as possible, I collaborate with other beaders and artisans.
What are you working on at the moment? Any particular piece of work or exciting project? Aside from my work at the BeadSmith and my business, I am personally working on my Toho bead challenge piece. I have decided to do a non-Jewellery bead embroidery project. Not quite sure what the end product will be, but I'm having fun with it.
Do you have any goals related to you work that you would like to see become a reality within the next 5 years? I want to learn and be able to reach out to my customers and fellow beaders in the virtual world. It's the wave of the future, and I don't want to be left behind or leave others behind.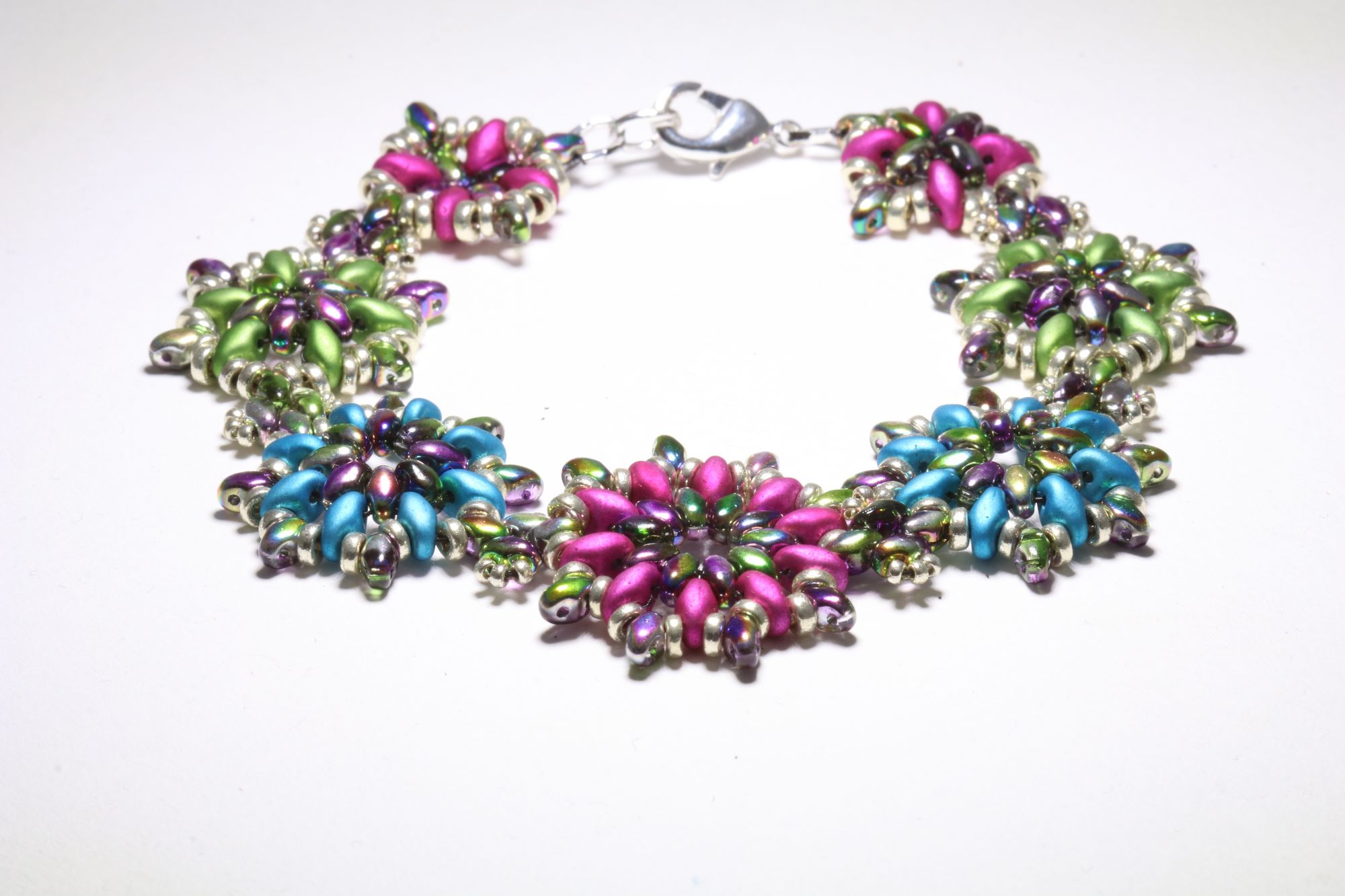 What have been your biggest personal (not necessarily bead or jewellery related) challenges, and accomplishments? I would have to say that my biggest personal challenge has been and still is, staying true to and focused on aspects of your life that are important to me. Especially in a world that is hectic and frequently pulls you in multiple directions.
Anything else you wish to share that might be of interest, or inspiration for any bead makers, beaders or jewellery makers? I'll end with what I always say to my students and customers. Have fun, explore and don't doubt your abilities. Beading is fun, and the possibilities to create are endless.
BEADLINK: www.twistedsistahbeads.com